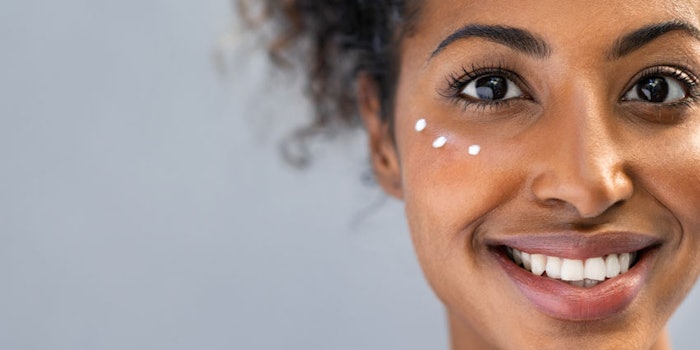 As makeup counters and skin care aisles become more and more saturated with products, brands are starting to realize the best way to stand out from the crowd is to get up close and personal with consumers.
Global Cosmetic Industry magazine caught up with Henry to learn more about the key tools for personalization, how personalization is powering innovation and what's next for personalization.
Global Cosmetic Industry: What are the key tools for personalization? 
George Henry (GH): Emerging technologies such as artificial intelligence (AI), augmented reality (AR) and data analysis, empower brands to create ultra-personalized personal care solutions for consumers. An example is L'Oréal Perso, which was unveiled in January 2020 as an AI-powered device that creates personalized skin care, foundation and lip makeup on-demand. This is supported by omnichannel integration with its Modiface AR app and across social media.
L'Oréal's Perso can also analyze trending images online to help users mix and match the lipstick colors of their favorite influencers. AI's ability to personalize formulas, as seen here, enables consumers to broaden their access and try out new trends at their convenience.
Global Cosmetic Industry: How are brands implementing personalization strategies?
GH: Ambient commerce and experimental retail are two strategies that increasingly present tailored product choices to consumers before purchase. This process is based upon an analysis of past spending patterns, detections of customer location and stock levels of goods. Past spending data enables brands to create strategies for repeat purchases and disrupt the likelihood of consumers purchasing challenger products.
Sephora is one brand that utilizes moment marketing, which seeks to identify the ideal moment to deliver real-time content to consumers. The use of Bluetooth beacon technology triggers in-app offers such as discounts and personalized content when shoppers approach its stores. 
Furthermore, consumers can be tracked in-store so that targeted brand information can optimize their retail experience. Personalized content presents brands with opportunities to cater to the 65% of global consumers who are influenced by how well beauty and grooming products are tailored to their individual needs and personality—according to GlobalData's 2018 Q3 Global Consumer Survey.
Beacon integration can personalize rewards programs, allowing brands to empower customers with the ability to find nearby stores, earn loyalty points and redeem rewards. For brands, the collection of customer data enables them to accurately market services to their target audience and identify which locations are most popular among their customer demography. This allows brands to further optimize their services accordingly and improve conversion rates.
Global Cosmetic Industry: How can brands exploit information gathered through the personalization process to power future innovation?
GH: Consumers increasingly expect personalized personal care solutions, driving the impetus for smart cosmetics and tech-led services. Direct-to-consumer relationships are progressively built with consumer data and insights obtained from technologies such as AI. 
Lancôme's Shade Finder is one example that provides accurate foundation shade recommendations based on skin scans. Diagnosis of the user's skin undertone and shade intensity is displayed, with optimized recommendations then offered to the consumer. This demonstrates how brands are furthering their interactions with customers, moving beyond transactional relationships, towards a service-led offering.
Developments in machine learning now allow for the rapid consumption of user information to be interpreted into products delivered directly to the consumer's door. Curology uses this technology to analyze a user's skin type from a combination of photos, skin ambitions and medical history. Users are subsequently matched with a medical professional to customize formulas to counter specific skin conditions such as hyperpigmentation and acne. The combination of this personal interaction with digitization furthers the reach of telehealth and enables brands to build products completely tailored to their customers.
Global Cosmetic Industry: What's next for personalization? 
GH: "Smarter" AI in the form of emotional intelligence and empathy detection will play an increasingly prominent role. AI's penetration has facilitated the need to understand the behavior that is often communicated subconsciously, therefore meeting the challenge of developing IQ alongside a high EQ (emotional quotient).
Digital assistants have facilitated the rapid development of voice technologies, highlighting the importance of how non-verbal information is conveyed. The ability for AI to distinguish voice tones, for instance, enables intuitive reactions to real-time situations, such as suggesting age-relevant content. 
Though there have already been inroads into the field—notably Amazon's use of machine learning to upgrade Alexa's capabilities—emotionally intelligent AI has yet to hit mainstream use across the personal care sector.
Affectiva is one company developing emotion-recognition algorithms to map facial expressions, which could have implications for personalized skin care regimes. I predict that an analysis of empathy will further augment AI to optimize consumer interactions with their devices. 
For more information on the in-cosmetics Global 2020 education program, visit https://www.in-cosmetics.com/global/.