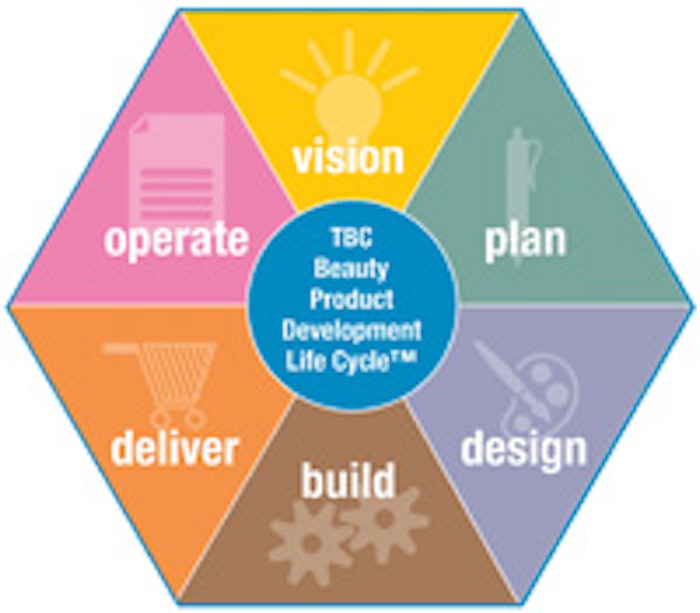 In 2006, when I started The Beauty Company (TBC), like many entrepreneurs, I had a vision in my head of what my company would be like, and it was a good one—full of brilliant, effortless successes and never-ending creativity. Of course in reality, it took a lot more work. And just like building my company, it takes a lot more than just a vision to build a profitable beauty brand. It takes the initial spark of your idea, the vision to see it through, the determination to keep overcoming hurdles (which will seem to constantly spring up in your path), and a proven approach for structuring, managing and delivering the primary touch points that every brand must have in order to be successful. At TBC, we call this approach the Beauty Product Development Life Cycle: six phases that guarantee your great new beauty business idea is a genius, and not a disaster.
Built from hands-on experience and beauty industry standards, the Beauty Product Development Life Cycle is a blueprint of the critical steps necessary for launching a highly desirable, consumer-validated, must-have new beauty brand in today's marketplace. These steps are Vision, Plan, Design, Build, Deliver and Operate. A proven method, every phase of this cycle is designed to work synergistically to ensure no detail is overlooked, no story goes untold, no claim is untested and no brand element is left undeveloped.
Vision
Even if you start with what seems to be the greatest, most innovative idea, without a vision of how to grow it, even the best ideas can die on the vine. For many new beauty entrepreneurs, the rather mundane details that must be taken care of before any creative brand work kicks off—business planning, financial strategy, budgets, competitive studies, concept creation, testing and strategy overviews—can quickly get lost in the excitement of picking a logo, choosing a color palette and designing a website.
However, in order to give your brand the solid foundation it needs to even just enter the market, it's imperative these elements are fully explored and solidified before moving on to the more creative, exciting phases. Vetting out the competition, establishing budgets and operating plans, and (perhaps most importantly) testing your idea with consumers before you spend a dime on brand and product development will save you thousands in the long run and ensure a seamless transition into the next phases.
Plan and Design
After optimizing your vision, it's time to move onto phases two and three: plan and design, or "the fun part." These phases start the process of whittling your brand down to its core ownable elements—the look and image—and kick off the creative design and identity process.
Where a more methodic, logical approach is needed when setting budgets and researching competition, at this stage, your wildest desires, dreams and development ideas should be encouraged to run free as you build and develop your brand positioning story and platform, mood boards, logos and icons, usage guidelines and all creative photography, among your other consumer-facing collateral. Product development also gets underway at this point, meaning you will need to begin evaluating your portfolio, choosing product profiles and benchmarks, selecting a formulator and identifying all necessary industry testing protocols that must be completed before manufacturing and fulfillment can occur.
With so many moving parts, the plan and design phases are a critical time for a new beauty brand, which is why following a method proven to help you meet objectives is crucial.
Build
Roughly midway between kickoff and project wrap is the build phase of the Beauty Product Development Life Cycle. This phase is the exciting moment when your vision, planning and designing start to take on a physical shape and personality.
By now, brand elements such as the identity, stories, color palettes, logos and nearly all other creative assets should be finalized or well on their way, allowing brand managers to move on to the more concrete, physical elements of the brand—packaging copy, websites, user guides, brand books, social media pages and retailer kits. Additionally, now is the time to start package sourcing, package design and production, as well as the manufacturing of the actual product and the creation of finished goods.
A third pivotal element to the build phase is consumer trial groups. These groups give your target consumer a first look at the nearly finished product, allowing them to give you vital feedback on the formula, the look, the feel and the smell before anything is finalized. Perhaps most importantly, the point of these trial groups is to get market-ready product claims, which are basically a required point of entry for most beauty categories today.
Deliver and Operate
Finally, after the work of conceptualizing, creating and producing your new brand, it's time to take it to market—and hopefully to watch it thrive. By now, the brand identity is set, the formula is optimized and stable, the packaging is done, and your brand is ready to implement a vital go-to-market and sales distribution plan.
Although it may seem the harder work of launching your brand is behind you, in reality, much effort remains. It's not enough anymore to just create a beautiful brand with gorgeous packaging and lush formulas. Consumers won't come just because you built it. You have to create and maintain an aggressive sales plan—which includes retail distribution and consumer purchase scenarios, in addition to managing the distribution and inventory planning—if you want to keep your brand on target and able to both have inventory to sell and stock to replenish once it's a hit with consumers. The launch of marketing efforts, public relations outreach, beauty editorial exposure, social media campaigns and retailer outreach are also key to this effort, creating the demand that will give you the sales to place orders for your next round of new products.
Cycle for Success
Although beauty is one of the most dynamic industries to work in—and certainly a lot of fun—launching a new beauty brand isn't a hobby, and it should never be taken lightly or expected to be easy. It's a business, which is why every new brand needs a vision as well as a proven strategy or blueprint for how it is going to take that vision and make it come alive.
By following the phases of the Beauty Product Development Life Cycle, potential pitfalls are discovered, consumer disconnects are connected and beauty products are created that consumers can't imagine living without. The Beauty Product Development Life Cycle helps your brand avoid the trap of "just make it pretty" or "if you build it, she will come" strategies that sell your new brand short and ultimately lead to the end of your vision. Instead, a rigorous and thorough follow through of the Beauty Product Development Life Cycle should signal the start of your successful beauty empire.
Author's note: A free copy of the Beauty is Not for Sissies Workbook, an in-depth overview of each phase of TBC's Beauty Development Product Life Cycle, will be available for download in June 2012. Visit www.thebeautycompany.co to register for a free copy.
Alisa Marie Beyer is the founder and creative director of The Beauty Company (TBC), a global beauty consulting firm offering business, strategy, consumer intelligence and branding. Serving its clients at every stage of development (from start-ups to 13 of the top 15 global beauty companies), TBC intimately understand the industry, the consumer and the market, and becomes an integral part of each client or project team. [email protected]; thebeautycompany.co