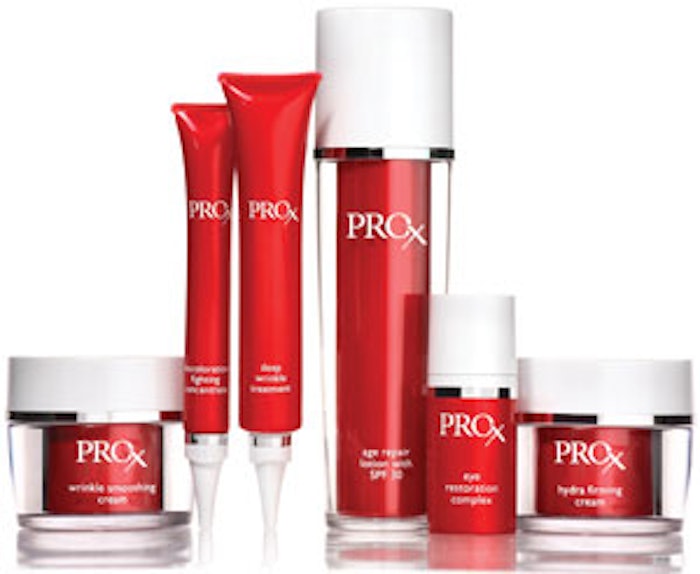 By 2012, U.S. cosmeceutical sales are expected to reach $21 billion, as reported by Packaged Facts in June 2008. And growth like this is not limited to the U.S.; European and Japanese markets have also embraced such cosmetics and their marketing claims—a demand Lakshmi Prakash, vice president of innovation and business development for the Sabinsa Corporation, says is "expected to increase 8.5% to more than $8 billion by 2010." More specifically, the demand for antiaging products will grow at twice the rate of other cosmeceutical products, accounting for more than 60% of all such products by 2010. This demand has spurred advanced R&D methods and tests on both new and familiar cosmetic ingredients, leading to innovations in antiaging skin care.
Advancements in Antiaging Skin Care
Although elastin has previously been used in antiaging skin-firming products, BASF Beauty Care Solutions has discovered the functionality of three-dimensional facial architecture and the renewal of elastin functionality, which it is touting with its newly patented Lys'lastine active, according to Bethsabée Coutaz, marketing and communication manager at BASF. And P&G is putting similar ingredient advances on store shelves. It's Olay brand's Professional Pro-X, an antiaging skin care line developed by a panel of scientists and dermatologists called the Olay Professional Alliance for Skin Care Innovation, includes two ingredients, pal-KT and hexamidine, not found in any other Olay product. "Pal-KT is a proprietary palmitoyl-peptide that enhances the stratum corneum to increase hydration, along with other moisturizers like glycerin, helping to allow the natural production of collagen," says Mary Johnson, principal scientist, P&G Beauty. "And hexamidine locks in moisture, thereby plumping and firming the skin."
For its part, Lipo Chemicals is "borrowing compounds from the food industry and chemically synthesizing the products that already exist in human skin, but are diminished due to aging or stress," according to Nava Dayan, head of R&D, skin care, Lipo Chemicals.
Natural actives are also impacting cosmeceutical advancements, according to Walter Smith, president of science and technology, Active Organics, LP. For example, the company supplies actizyme, an exfoliating enzyme cosmeceutical that has antiaging claims derived from M. meihie mushroom extracts. "Actimatrix stimulates the production of dermal matrix proteins involved in skin firmness and sagging," says Smith.
"Using a novel, patent-pending plant cell culture technology—PhytoCellTec—we developed an active based on apple stem cells," says Beata Hurst, marketing and sales manager, Mibelle Biochemistry. "For this product, dedifferentiated callus cells from a rare apple were cultivated. These apple stem cells are rich in epigenetic factors and metabolites, which assure the longevity of skin cells."
According to Prakash, other naturally derived ingredients being used in personal care products include "natural peptides, dairy-based ingredients, probiotics, natural actives from traditional herbs and super fruits, and their components—mainly in supporting healthy aging—both in the cosmeceuticals and nutricosmetics categories." She says the cosmeceutical antiaging market still heavily collaborates with the nutricosmetics market—a symbiosis of sorts—to enhance overall skin care benefits. "We're seeing enhanced delivery systems—for example, a beverage premix with actives for nutritional use and a cream or lotion supplied together in convenient to-go packs."
New Claims and Substantiation
Bradford Rope, president of BioScreen Testing Services, Inc., notes that of his clients, the "more innovative ingredient manufacturers have been able to substantiate remarkable antiaging results [that show] some measurable and visual changes to wrinkles, skin tightening and toning that have real value in the cosmeceutical arena."
To accomplish this task, BioScreen's technology provides substantiation for skin topography-altering claims. "For example, lip plumping products are supposed to enhance the visual appeal of the lips through a plumping effect," says Rope. "The effect should be subtle, yet measurable. Under-eye puffiness is a similar claim, whereby a visual effect is desired with a more subtle effect observable. The Vectra 3D system developed by Canfield of New Jersey allows a three-dimensional visual photograph to be taken and [analyzed] with the addition of very powerful measurement software. Surface changes like those described can be seen visually in a color-coded photograph, [along with] precise numerical values to surface changes that can be quantified and studied statistically."
Not all suppliers and cosmetic brands seek outside ingredient testers. Active Organics, for instance, uses an in-house R&D department, as well as university consultants, to establish the efficacy of its products. "We use both in vitro and clinical studies on our targeted consumers to establish activity," says Smith. "We can optimize our mushroom extract using cultured cells, and we can assess hundreds of different activities—ranging from producing cultured skin cells from free radical damage to determining whether collagen synthesis is enhanced in older cultured cells. The extraction process, the concentration and which mushroom to use can be optimized relatively quickly and at a reasonable cost. Once these parameters are optimized, clinical studies on potential consumers can be run to establish the in vitro testing correlated with observable cosmetic end benefits."
A brand with its own R&D scientists, Olay recently tested its new Pro-X line in clinical trials to prove its claim that its products are as effective at reducing the appearance of facial fine lines and wrinkles as the leading prescription antiaging product. "These trials confirmed that Olay Professional Pro-X delivers clinically proven results, resignaling aged skin to perform more like it did when it was younger by repairing the moisture barrier, increasing surface skin turnover to younger levels and reducing the appearance of surface lines and wrinkles," says Johnson. "Additionally, daily use of [the full line] was found to help skin's stratum corneum perform more like younger, healthy skin and significantly reduce the appearance of facial fine lines and wrinkles relative to the baseline in eight weeks. Both expert visual grading analysis and objective computer image analysis of high-resolution digital images of the subjects, before and after eight weeks of treatment, confirmed the effects were significant and noticeable."
Similarly, to substantiate its own claims, Jacobus says Murad remains sensitive to regulations regarding cosmetic ingredients and performance claims, walking the fine line of claims that would cause regulatory bodies to classify the products as drugs. "With respect to the skin," says Jacobus, "claims are limited to activity within the surface layer of the skin." Murad, therefore, tests its products using in vitro testing, independent clinical trials and in-house studies using its own testing facilities.
On the Shelf
With so many advancements being made in antiaging ingredients, marketing claims are also becoming more technical. So as not to confuse consumers, Murad posts specific product benefits in bullets on the front of each package. "We also carry that benefit-driven message on our Web site, in ad campaigns, at retail and in all marketing collateral," says Jacobus. "For example, the second benefit bullet on our new Sleep Reform Serum package says that the product 'stimulates the proliferation of the cells responsible for collagen production by 78%.' That claim is echoed in our national print campaign and in all of our retail and collateral materials."
For P&G's Olay Professional Pro-X line, its in-store product displays reinforce the clinical trial results and claims. "In most retail stores, women will see Pro-X placed on a shelf unit that describes the line's benefits, and separates products into two categories—primary solutions and specialized treatments," says Johnson.
As for the future of antiaging skin care ingredients, claims and substantiation, emerging consumer needs will help determine the R&D process for such innovative product concepts.
Leslie Benson is a freelance writer and former editor for GCI magazine.