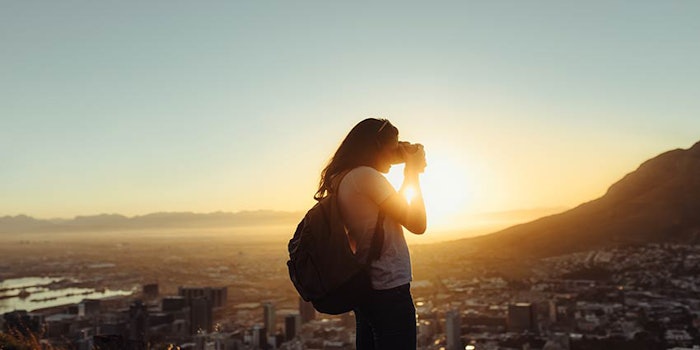 Protective skin care comprises UV protection, supported by UV filters, defense against air and light pollution, supported by anti-pollution and blue light breakthroughs, and holistic skin protection, led by the probiotic/microbiome revolution.
During a briefing conducted at in-cosmetics Global, Maria Coronado Robles, senior consultant, Euromonitor International, outlined the consumer sentiments and growth opportunities among products and markets around the globe.
Related: 3 Things Consumers Want in Athleisure Products
Consumer Sentiment Driving Trends
According to Euromonitor data:
16% of surveyed consumers looked for anti-pollution benefits in skin care in 2017
25% reported taking supplements or vitamins daily
25% of Gen Z consumers are looking for anti-pollution claims, compared to 16% of millennials
53% felt they could make a difference in the world with their choices
61% are worried about climate change
Protective Skin Care Ingredients
Robles explained that the key protective ingredients include:
"Other" protection
UV filters
DNA protection
Microbiome-friendly (but non-probiotic)
Biomimicry
Anti-pollution
Botanicals
Vitamins
Niacinamide
Ascorbic acid
Etc.
Probiotics
Prebiotics that feed probiotics
Live probiotics
Deactivated/dormant probiotics
Tyndallized/heated probiotics
Postbiotics such as hyaluronic acid and lactic acid
Microbiome-friendly materials that support biome balance
Lysates—cells with walls/membranes that have been broken in order to render their components more bioavailable
Top Anti-pollution Markets Ranked
According to Euromonitor data, the markets with the greatest citation of anti-pollution as the most-desired skin care benefit in descending order were:
Asia Pacific
Latin America
Middle East and Africa
Western Europe
North America
Notably, Latin America's population will significantly over-index for urbanized populations by 2030, compared to global rates. This portends will for vastly increased demands for anti-pollution solutions.
Top Regional Product Type Growth Opportunities for Anti-pollution
According to data presented by Robles, the top product format opportunities in Asia Pacific are:
Facial Moisturizers
Face masks
Shampoos
Anti-agers
In North America, the top opportunities include:
Sun protection
Shampoos
Anti-agers
In Western Europe, the top opportunities include:
Shampoos
Facial cleansers
Anti-agers
Anti-pollution Claims on the Market
While anti-pollution concepts are still evolving, claims are already showing up on store shelves around the world, including in Sanex's Zero% Anti-Pollution Shower Gel, Schwarzkopf Extra Care Purify & Protect Shampoo, Oskia Citylife I-Zone lip and eye balm and Lovekins Gentle Baby Hair + Body Wash.
Probiotic Claims on the Market
Probiotic concepts are already being introduced to the marketplace, even as brands seek out the right balance of microbiome-friendly/supportive approaches. The claims have already shown up in personal care, anti-aging and dermocosmetics.
Recent examples include Mother Dirt's AO Biome Moisturizer, Yun Probiotherapy's CAN+ Wash and CAN+ Cream, Glowbiotics' Anti-Aging Oil, JooMo's Body Wash, ang Gallinee's Hydrating Face Cream.
Key Anti-pollution and Probiotic Challenges & Opportunities
The effectiveness of anti-pollution concepts is determined by how well formulations and product formats can address the diverse number of pollutants, geographical variations, variations of conditions depending on time of day and seasonal shifts.
Similarly, probiotics face consumer confusion, a lack of standardization among ingredients and microbiome-supporting strategies, as well as technical and regulatory barriers, including EU limitations on microbe levels per ml of product.
Robles concluded by noting that savvy brands can succeed by expanding anti-pollution claims into sun protection and hair care, by offering more robust protection, such as supporting the skin barrier, and integrating technical innovations such as data collection, wearables and apps.
In addition, brands can expand probiotics into categories such as hair and dermocosmetics, offer protection from environmental aggressors, deliver anti-aging claims, and personalize products through microbiome fingerprinting and genetically modifying microorganisms to support microbiome wellness.