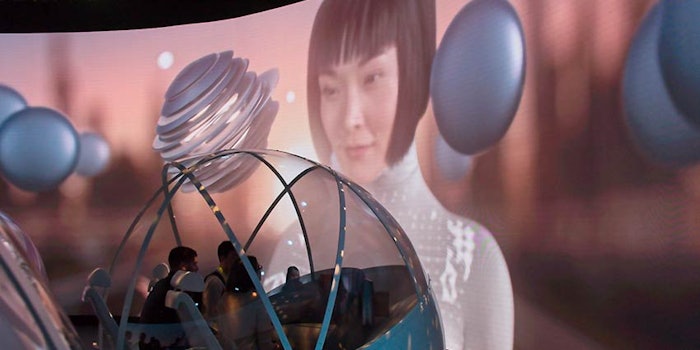 CES has proven a reliable platform for showing off the latest technology for beauty brands and consumers. Yet many of the show floor innovations fail to make a big splash in the market. Why? This is the core question addressed by guest author and beauty marketing and innovation expert, Benjamin Lord. -Editor
This year at CES, attendees again saw their share of beauty advisers, smart mirrors and customization tools.
Platforms have been thriving in the beauty industry. On the consumer side, apps like Mira are winning customers through instant, personalized service. On the business side, immersive and diagnostic platforms like YouCam and Skin360 have quenched Big Beauty's thirst for flashy digitalization. 
High-tech beauty devices, however, do not seem to be going anywhere, and it's disappointing. Over the past two years, consumer brands exhibited some spectacular developments in the field, with exciting potential: 
P&G's

Opté

wand, a pencil-like tool removing spots and

hyperpigmentation

instantly (I tried it myself and it's truly magical).
Neutrogena's

MaskID

, a 3D-printed mask that is customized with personalized data. Within the system, recommended ingredients for each user's face are printed onto the mask.
L'Oreal's UV Sense, a

nano

-sensor on your fingernail that protects your skin from sun overexposure.
This year, some of these companies were back, and some others presented similar products. Little to none of them have been successfully commercialized in the United States. 
It's surprising knowing the United States is trailing countries like China, where skin care is also at the top of consumers' priorities and where, consequently, the beauty device market is booming. In fact, like the United States, the smart beauty craze in China is all about the renewed attention consumers are paying to health and wellness.
So, why isn't U.S. high-tech beauty taking off? 
1. It's been limited to one trade show once a year.
The wow factor that gets you headlines from CES is a whole lot of money put into something ephemeral. It sure makes your brand look good, but if you can't commercialize such fabulous tech quickly after a showcase, what's really in it for consumers?
2. There's mistrust from consumers.
The overall perception of these devices was long ago tarnished by the beauty industry itself. False advertising from home shopping platforms and infomercials filled with images promising dramatic results created doubt about the efficacy of beauty devices.
Additionally, today's consumers want products you can feel, smell and apply yourself. The ritual is part of the fun.
3.
Devices are expensive.
Although both Sephora and Ulta sell devices, you would never see them appear on their homepage or search results. There's a gap between the price point and the beauty marketplace overall. Sames goes for grooming tools. I am not sure who would buy a $200 razor just because it's heated.
4.
Wrong branding.
The hyper-futuristic positioning is a big issue. While words like "black tech," "LED light facials" and "radio frequency tools" get techies aroused, they are scary to beauty consumers — and quite frankly, not addressing the benefits of the product at all.
Design and packaging isn't meeting beauty consumers' criteria either. How do they take it out of the packaging? Does it fit in a gym bag? Does it look good in their bathroom? For instance, L'Oreal's Perso's custom lipstick technology is exciting, but not designed to fit in a purse.
5. Their

lifecyle

is too long.
Selling beauty hardware to the masses is a drastic shift for an industry that always wants to sell more. The lifecycle of a beauty device is longer than a cream, so replenishment and repeat purchase ratios are not meeting retailers' expectations. Most companies would rather pour their entire budget into maintaining their position in retail, where volume targets can be met.
Lessons from China
Despite these challenges, this new model is working for China's retailers.
Out of Tmall's top five cosmetology brands, #3 is K Skin, a sonic facial brush manufacturer. Want more numbers? At Alibaba's latest November 11 Singles' Day shopping festival — which hit a record $30.8 billion in gross merchandise volume — five of the top 10 digital appliances sold were at-home beauty tools.
So, how can you make high-tech beauty take off?
5 U.S. Beauty Tech Strategies
1. Honing on a market shift.
There is a connection between high-tech beauty and the pursuit of simple and clean skin care in the United States. Not to mention the gain of time these beauty devices would offer consumers whose grooming and beauty routines are lengthy.
Women are spending more time and more money on beauty than ever, and they're tired of it. There's a lot of added value to using a beauty device. Same goes for the men who don't want to spend more than five minutes on their daily regimen.
2. Market technology like it's beauty.
Marketing a mascara is a different animal than marketing an iPhone, and vice-versa. It requires a different set of knowledge, skills and budgets, alongside a different price and retail structure. While it's a business model and product experience at the intersection of both, your marketing should be 100% aimed at the beauty buyer. Not the other way around.
3. Amazon

first.
Amazon is already a premier destination for both technology products and cosmetics. It's beaten Sephora and Ulta in terms of searches and purchases over the past three years and now boasts strategic categories that beauty devices fit well: luxury beauty (prestige, higher price points), professional beauty (salons and spas, places full of devices!) and indie, alternative beauty.
Interestingly enough, Tmall's K Skin is already on Amazon.
Further reading: Amazon Strikes Again
4. Exclusive retail

distribution.
Traditional beauty has proven that brick-and-mortar and pop-ups are still an exciting part of the consumer journey. Beauty is, and will always be, experiential.
I would like to see more high-tech beauty when I go to my salon or spa, where I am in a select, personal environment where professional expertise can guide me. Think about showrooms and stores where people can actually experience the product in the right context.
And think about exclusivity: Ulta is the exclusive retail partner to Kylie Jenner's wildly successful cosmetics line.
5.

DTC

and

Loyalty
Many legacy brands missed the boat on direct-to-consumer (DTC). But now that DTC contenders are a clear threat to their businesses, the same brands are in a mad rush to acquire and keep pace.
There's a sense of urgency and importance placed on technology and the customer data it captures. The value of this data is paramount, and it could be used to the benefit of both the brand and consumers through a loyalty program, keeping users engaged over the product's lifecycle.