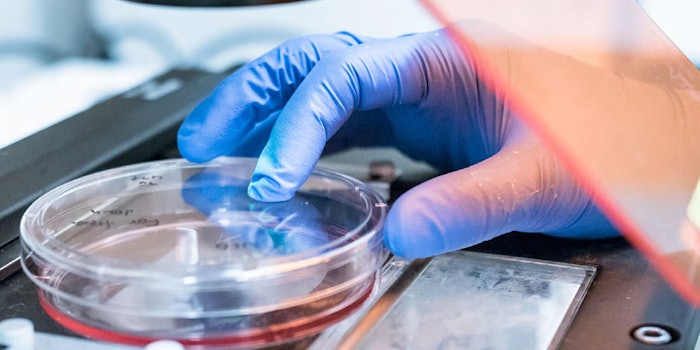 Gattefossé
3D, spheroid-based, scaffold-free microtissues were created by Gattefossé to mimic and study the intrinsic elastic properties of the dermis in vitro
. BioMeca then leveraged its expertise to analyze the substrates, the dynamics therein and potential actives of interest.
Related: Gattefossé Follows Consumer Bliss with 6 Nature-inspired Formulas
According to Gattefossé, during aging, human skin undergoes alterations of its biomechanical properties; particularly, a loss of elasticity that results in skin sagging. Dermal elastic fibers represent the primary components that support tissue compliance and resilience but as time goes by, their organization and functionality decline, which makes them a preferred target for cosmetic anti-aging strategies.
Advanced Test Model
Gattefossé notes that while 3D bioengineered skin substitutes are already commercially available to test anti-aging actives, they are not 100% accurate as they contain exogenous and artificial matrices that bias the measurement of biomechanical properties in the reconstructed tissue. Due to this, there was a need to develop advanced models to investigate the mechanical structure of human skin. 
In response, the company utilized 3D scaffold-free spheroids and leveraged the cells' abilities to secrete their extracellular matrix and ultimately recreate their own microenvironment. This technology enabled the production of hundreds of 3D microtissues in vitro within a few days using only dermal fibroblasts aggregated in ultra-low affinity plates.
Model Validation
The elastic modulus (or Young's modulus) of the microtissues were measured using atomic force microscopy (AFM) and the elastic fibers were visualized by Second Harmonic Generation (SHG) imaging microscopy. Together, Gattefossé and BioMeca demonstrated the 3D spheroid microtissue was a relevant and reliable model with a complex organization, comprising a dense, mature elastic fiber network sufficiently extensive to mimic in vitro dermal elastic mechanics.
Previously: Gattefossé to Build its First U.S. Production Site in Texas
Murraya Koenigii Efficacy
This 3D model was then used to measure the efficacy of EleVastin (INCI: Not Provided), an active ingredient developed by Gattefossé to fight against age-related loss of skin elasticity. This material is a betaine-propanediol-water (BPW) extract from the traditional ayurvedic plant Murraya koenigii. It was previously identified to increase elastin, fibrillin-1 and fibulin-5 syntheses in fibroblast monolayer cultures, while decreasing MMP-12 elastase activity. The microtissue model confirmed the active's ability to improve elastic fiber formation and biomechanical properties. More information about this active will be released April 2021.
Enabling Insights
"Characterizing biological models is becoming a challenge to evaluate new formulas or active ingredients aiming to restore or maintain skin integrity," said Julien Chlasta, co-founder of BioMeca. "BioMeca offers technologies to bring new biology insights. [SHG] microscopy highlights fibers network while [AFM] reveals tissue stiffness in both imaging and mechanically manipulating biological structures near physiological conditions over time."
He continued, "With topographical mechanical measurement, quantitative nanomechanical quantification and tissue characterization, BioMeca's expertise represents a key for exploring elastic properties of skin models and opens a new door for skin care."
"By combining two cutting-edge analytical techniques, we have been able to accurately correlate both the presence and amounts of elastic fibers with elastic properties of microtissues, thus evidencing that formed elastic fibers were functional," added Nicolas Bechetoille, Ph.D., skin biology research manager at Gattefossé.
This investigative approach was featured during the 31st IFSCC Congress in late 2020.
For more information, contact Gattefossé.