From the GCI archives.
According to a press release from Dow Corning, recent company research shows silicones demonstrate hair strengthening benefits in leave-on and rinse-off applications. Single fiber tensile measurements obtained on hair treated with Dow Corning silicones. Three materials—Dow Corning 5-7113 Silicone Quat Microemulsion, Dow Corning 5-7070 Si Amino Elastomer Emulsion and Dow Corning 2-2078 Fluid—demonstrated these benefits. Fibers treated with Dow Corning silicones exhibited higher load versus untreated samples.

"We know that consumers want to keep their hair looking healthy, and are buying products that promise shinier, smoother and stronger hair," said Fiona Schuller, Dow Corning market specialist, hair care. "Our research demonstrates that the right formulation can help deliver on these promises."

The products, according to Dow Corning, also provide a range of other benefits—including excellent wet and dry combing, heat and color protection, curl retention, smooth feel, frizz control, shine and straightening.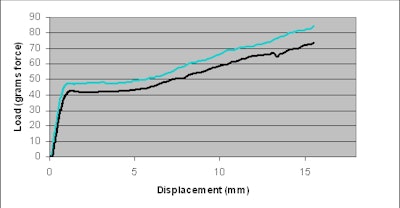 Top Line = Treated with Dow Corning silicone
Bottom Line = Untreated