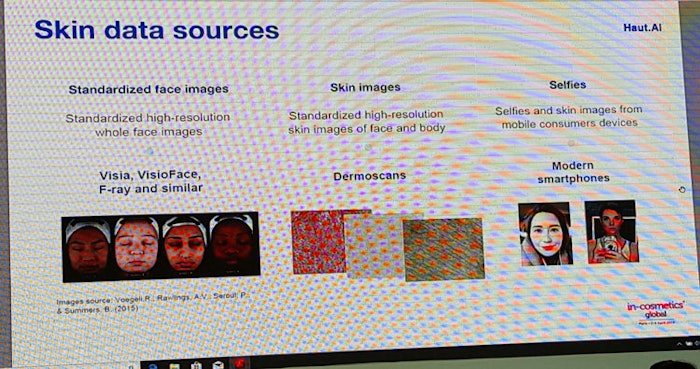 "Don't treat the use of AI as a goal, treat it as a tool to predict consumer behavior," Anastasia Georgievskaya, CEO and co-founder of Haut.AI told in-cosmetics Global attendees. To this, she added ideas for future applications.
Products have gotten smarter and more complicated, and artificial intelligence (AI) is finding its way into many aspects of consumers' lives. Consider voice recognition, smart homes and cars, social media and music streaming. According to Georgievskaya, however, while its implementation may be on-trend, you have to identify the business purpose for using AI, as this can lend itself to the program design and Big Data collection.
"AI comes down to: some pretty sophisticated algorithms engaged in gathering Big Data, and neuro-networks inspired by the brain for computer learning," said Georgievskaya. "Businesses should aim to feed this algorithm pipeline." 
She added it's important to collect all this data now, otherwise competitors will get ahead of you. Algorithms used to collect data through Spotify, Netflix and Amazon provided model examples.
Georgievskaya also explored applications where AI is already and could, in the future, advance product development. "Selfies are becoming better and better, and these can be used to assess skin parameters. The most obvious use of these photos would be to predict skin redness and detect under-eye bags and wrinkles," she said.
In addition to selfies, images taken during research, including standardized whole face images via Visia, Visioface, F-ray and similar devices, or high-resolution Dermoscan skin images could serve as sources for skin data and fed into calculations.
Taking this a step further, though, Georgievskaya described how algorithms can be used to generate images from scratch. And as these calculated images become more refined, they could be applied to show consumers how their skin might look after applying a product and predicting longer-term product effects. 
She described it similarly to taking Modiface's augmented reality, and/or Revieve's digital beauty adviser, but taking these to a next step by feeding algorithms with quality data in the literature from thousands of studies.
Examples of leveraging AI in such a research capacity are known to cosmetics R&D; in fact, at last year's in-cosmetics event, one presentation by Nuritas described its use for new ingredient discoveries. It's only a matter of time before AI will become a part of the mainstream R&D process—once its business purpose has been identified, of course.