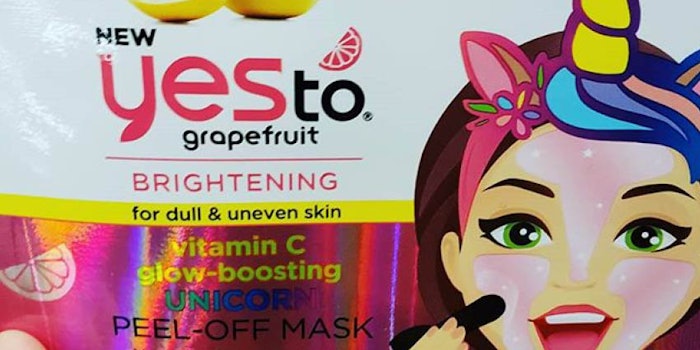 Skin care company Yes To has recalled its Grapefruit Vitamin C Glow-Boosting Unicorn Paper Mask after complaints of chemical burn/allergic reactions resulting in redness, irritation, burning, tingling and, in some cases, raised abrasions.
A typical review of the mask, seen on the Ulta website, reads as follows (emphasis ours):
I recently tried out this facial mask I received as a stocking stuffer for Christmas and reviewed the packing instructions of leaving on for 10 mins. I felt a hot sensation the entire time however I ignored the feeling due to the packing which reads 'if it's tingling it's working'. After 10 mins I discarded the mask only to see my face was a bright pink/red and appeared sun burnt. I was horrified and in complete shock. I haven't regularly used this brand before however I have tried a few face masks from them in the past and haven't had any problems. I am now seeing many people are having the same reaction as I did! Please do not buy and do your research. Will not be purchasing from YES To in the future.
Today reported of two young girls, Chaley Covelli and Addison Slater, both aged 11, who experienced significant burning and stinging three minutes after applying the face mask. Speaking to the girls' mothers, Today reported both women felt their daughters' reactions were more than allergies, and instead closer to burns.
"I thought it was an allergic reaction, but then I realized it looked like it was a little more than allergic reaction," mom Leisa Covelli of Maitland, Florida, told Today. "It looked like some burns. The burn reaction was an outline of the whole mask. It was crazy, like you can see where she pressed on it into her face."
Speaking to Adam Friedman, Ph.D., the interim chair of the dermatology department at George Washington University School of Medicine and Health Sciences, Today also reported that Vitamin C can be damaging to younger skin. However, adults were also complaining over social media about poor reactions to the mask.
"It's about the concentration of ingredients," Friedman told Today. "So anything could be toxic depending on how much you have in there, which, of course, we don't know."
In response to the complaints, Yes To posted this statement to Facebook on January 3, 2020:
In light of reports that our Grapefruit Vitamin C Glow-Boosting Unicorn Paper Mask has resulted in skin irritation for some consumers, Yes To has decided to remove this particular product from store shelves while we investigate.
At Yes To, the safety and satisfaction of our customers are our main concerns. We value you and apologize to anyone who was affected in this way, especially over the holiday season.
If skin irritation occurs due to a face mask, dermatologists recommend washing the face with mild soap before applying a thin layer of 1% hydrocortisone, according to Today.