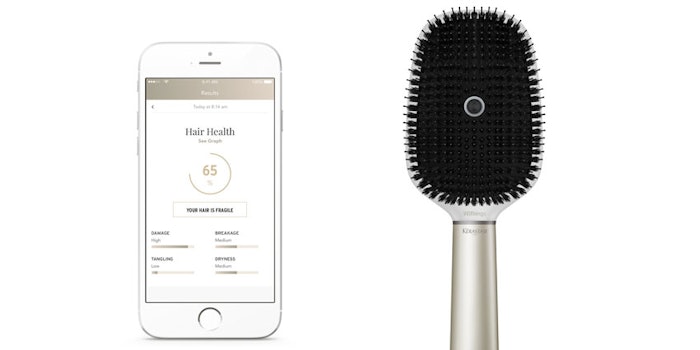 As consumers grow increasingly tech-savvy, companies and products are progressively evolving to meet digital needs, and perhaps ultimately connect with the ever-present smartphone. With products ranging from smart hairbrushes to UV patches that inform the wearer when they have reached the maximum acceptable sun exposure, it is safe to say that technology is slowly but surely shaping the beauty industry.
Technology and Hair Care
The brush is intended to help consumers prevent aggressive hair brushing, which often leads to damage, breakage and split ends, by using sensors built in to the hairbrush to inform users of the state of their hair and how they should be taking care of it.
How it works
A microphone in the head of the brush listens to the sound of the hair during brushing. This can then give the user feedback on hair's manageability, frizziness, dryness, split ends and breakage.
The force at which one is brushing their hair is also measured through three-axis load cells. These cells work alongside an accelerometer and a gyroscope to count brush strokes as well as send vibrations to the brush handle to signal to the user that they are brushing too hard.
The brush is also equipped with conductivity sensors, which take into account whether hair is wet or dry and how the hair can be accurately analyzed. Users can then log on to the app to view results of their hair analysis as well as see what products have been recommended for them.
This brush retails for $200.
L'Oréal Continues to Lead the Way
"Technology is transforming consumers' daily beauty routines, and smart devices have huge potential to impact how we care for our hair and skin."
Smart Mirror, Mirror on the Wall
Another debut at CES 2017 was the HiMirror Plus. Retailing for $259, this mirror is designed to detect and analyze wrinkles, fine lines, complexion status, dark circles, spots and pores, while also recommending products for the specific skin issues.
Smart ambient makeup light: LED lights simulate five different lighting scenarios including sunset view, outdoor on a sunny day, brightly lit office, shopping mall or supermarket and restaurant or party venue.
Increased memory: six users can now use the smart mirror, it was limited to four before. The mirror also allows users the ability to record and save skin analysis for a longer period of time, this allows users to better track skin improvements.
Update: Also debuted at CES 2017 was NextGen vanity mirror from Element Electronics, in
While technology has had an impressive effect on beauty products and services, it has also amped up the way that consumers hear about them.
Nevada-based cosmetics company, Nexsey LLC, knows first-hand about the power of the viral video. The company produces a medical grade tape, Nexsey, that is used to tighten neck wrinkles.
A recent video, produced by beauty blogger Glamzilla, was posted to the Learn Makeup Facebook page. The video demonstrated how Nexsey can be used to fix a double chin and, at the time this article was written, has 5 million views, 31,000 comments and 16,000 shares. According to the company, the buzz brought on by the social media post "spurred a rush on the product."
Whether it is a new innovative smart product or simply a new spin on an old product, Guive Balooch, global vice president of L'Oréal's Research and Innovation Technology Incubator,  said it best, "Technology is transforming consumers' daily beauty routines, and smart devices have huge potential to impact how we care for our hair and skin."