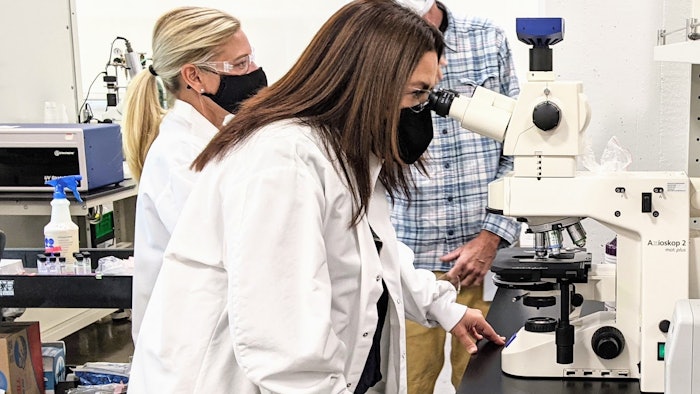 Algenist, which launched its Blue Algae Vitamin C Skinclarity Brightening Serum in August 2021, is partnering with Checkerspot labs to bring exclusive strains of microalgae materials to the skin care market.
Checkerspot is a materials innovation company that leverages biotech to generate valuable molecules that can be assembled via chemistry and materials science into novel oils for bespoke high-performance materials.
Previously: Algenist Taps Renewable Vitamin C from Algae
The company is headed by CEO and co-founder Charles Dimmler, who was with Algenist at its founding, as well as chief scientific officer Scott Franklin.
Under the new agreement, Checkerspot will serve as Algenist's innovation hub and microalgae R&D team, using the Checkerspot WING innovation platform, which combines research, conceptualization, development and commercialization of microalgae materials and technologies.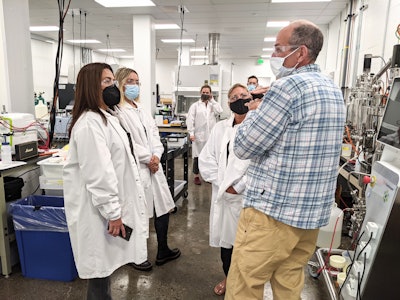 Algenist CEO Rose Fernandez spoke with Global Cosmetic Industry to provide more details of the partnership and its implications
How soon might we see new materials being announced and then brought to market in new products?
Fernandez:  We look forward to being able to talk about our discoveries and to bringing new materials and skincare products to market in the next year.
How does the WING platform work and how can it be applied to the development of beauty ingredients?
Fernandez: The WING platform is how we bring new products, materials and ingredients to life. Big picture, the WING platform is a deeply vertically integrated approach to development that is focused on creating and/or working with new materials and then prototyping those new materials/ingredients into products.
We are excited to be working with Algenist to discover and create new materials and future skincare systems together. In the personal care space, the WING platform starts at the molecular level with microalgae and the unique structural oils and bioactives that microalgae make, and then by applying materials science and formulation expertise we create, prototype and test products in the real world.
Through our rapid design, build, test cycle we can work on iterating and dialing in products and skin care systems for performance.
Are any ingredients ready for market that they can discuss?
Fernandez: There are ingredients and materials in development that we look forward to talking about in the near future.
Will this strictly cover ingredients or would packaging be impacted?
Fernandez: For now we are focused in the ingredient and skin care product development arena. However, Checkerspot materials such as AlgalCast (polyurathane), as well as other Checkerspot materials could have application in the packaging space as well down the road.