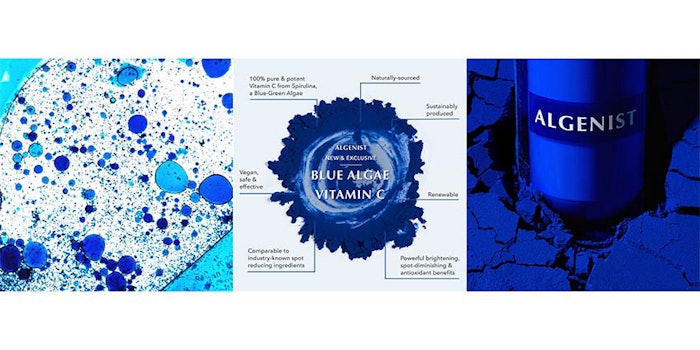 Algenist has unveiled Blue Algae Vitamin C, a pure, renewable, biotech-derived material extracted from nutrient-rich spirulina blue-green algae. The breakthrough provides a novel source for vitamin C in beauty.
The brand argues that conventional vitamin C may suffer from a lack of sustainability or traceability or derive from synthetic sources (which are not inherently harmful or unsustainable, it should be noted). The newly unveiled process sidesteps these issues, the brand argues.
Algenist's Blue Algae Vitamin C leads a blue-ingredient-centric collection tarigeting the appearance of dark spots, discoloration, and uneven tone and texture, with visible results emerging within 10 days.
Algenist will release its first formula leveraging proprietary Blue C Technology on Algenist.com on June 3 and Sephora.com June 9.
About the technology
Algae-derived vitamin C can deliver benefits such as dark spot reduction, radiance boosting and antioxidant activity. The result is an even skin tone and brightening effect. The material also reportedly outperforms L-ascorbic acids from other origins.
Furthermore, Blue Algae Vitamin C's efficacy is "significantly boosted" when paired with Algenist's patented Alguronic Acid from algae, which also has brightening properties.
The combination of the two ingredients help provide spot diminishing and skin-brightening benefits, boosting hydration, reducing the appearance of fine lines and wrinkles, and fighting environmental assaults that accelerate skin aging.
Spirulina cells are sustainably grown under optimum conditions in a cell culture lab. Mechanically ground and milled L-ascorbic acid fractions are isolated and extracted from the cells. This filtrate is collected and spray-dried to create a highly pure anhydrous L-ascorbic acid powder.
Sourcing matters
"Ingredient-sourcing matters," says Tammy Yaiser, VP of product development. "Starting with a clean, traceable source of vitamin C ensures a pure compound that provides the dramatic results that we want. We know vitamin C works as a gold standard ingredient and saw an opportunity to look to algae to give the customer something better from a natural source–it delivered."
Yaiser explains, "Our vitamin C is pure, water-soluble L-ascorbic acid in its most active form. The ingredient immediately goes to work on the skin, without having to go through several reactions to metabolize into an active form. Other vitamin C derivatives in the market are known to not be as effective as L-ascorbic acid due to their synthetic nature."