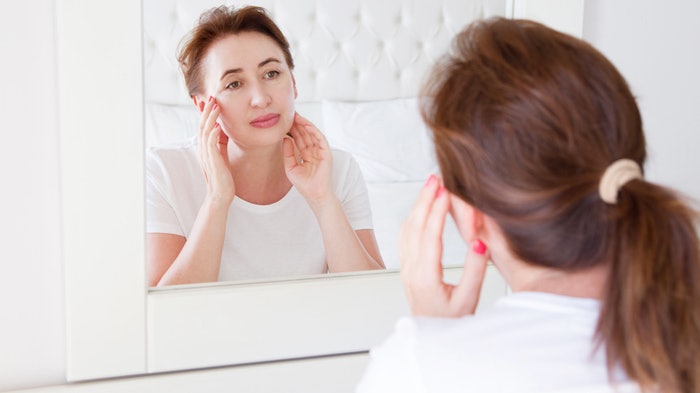 Givaudan Active Beauty debuted Gravityl (INCI: Not Provided), a well-aging active ingredient that containing Gigartina stellata, a red macro alga. Gravityl fights visible signs of aging by reducing skin sagging, double-chin volume and providing lifting benefits and efficacy on face contour.
Related: Givaudan Debuts First Integrated Fragrance Encapsulation Center in Singapore
Givaudan conducted two clinical tests versus placebo on a total of 84 volunteers and established that Gravityl is able to relaunch the production of collagen fibers in mature skin and increase collagen content by 3.4 times while improving firmness and elasticity by up to seven times versus placebo. 
To complement the launch of the active, Givaudan formulated S3D Jawline Reshaper, a 4-in-1 firming cream with Gravityl, Agefinity (INCI: Glycerin (and) Water (Aqua) (and) Sodium Mannose Phosphate (and) Mannose) and Acerola LG (INCI: Not Provided) to boost skin elasticity, regenerate cells, reorganize collagen and provide antioxidant benefits. 
Mathias Fleury, head of actives for Active Beauty, commented: "Thanks to an exclusive multi-step and eco-friendly process, we have crafted an enriched extract of Gigartina stellata, able to relaunch key processes linked to the extracellular matrix and elastic fiber protection, and reorganizing fibers in the dermis."