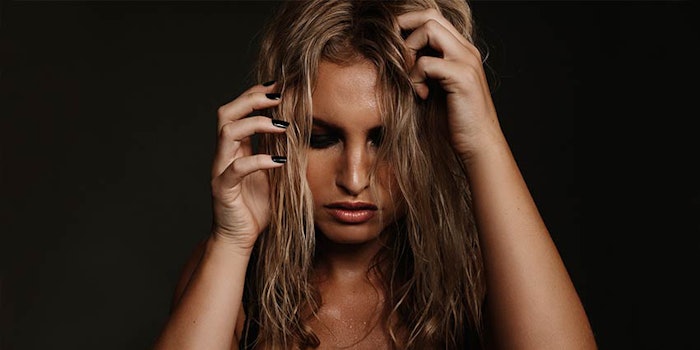 in-cosmetics Global signaled forthcoming hair care innovation with a range of new ingredients. Here, we present a selection of the concepts on view.
Related: 4 Ways to Expand the Hair Care Regimen
1. Millennial-friendly Product Formats
DSM presented a range of formulations geared toward active millennials, including the Alp'Dry Shampoo for hair care between washes, the Texturizing Beach Spray for just-back-from-the-beach looks and the Messy Matte Gum for sculpting, texturizing and scrunching the hair with a matte finish.
2. Anti-stress Hair Care
Clariant has introduced its Genadvance conditioning ingredient range, which is designed to address naturally thin, fine hair impacted by stressful lifestyles, genetics or aging; hair that has been heavily damaged or weakened due to heat exposure or chemical treatments; and hair dried out by everyday elements.
The formulation technology reportedly overcomes conventional quaternary ammonium compound limitations in rinse-off conditioners and conditioning shampoos. The specialized treatments offered by the range also supports customized formulation development.
Genadvance Repair renders damaged hair sleek, smooth and healthy, while preventing further damage. It is appropriate for hair masks and treatments, shampoos and conditioners. The lightweight ingredient boosts its economical profile, according to the company.
The Genadvance Life conditioning ingredient revitalizes thin and limp hair with volume and shine. The material will not make hair frizzy and can be applied in silicone-free products such as shampoos and conditioners.
Genadvance Hydra is an EcoCert-approved naturally derived ingredient that leaves hair feeling moisturized and manageable. It can be used at high levels in products such as natural shampoos and conditioners, as well as products for children.
3. Anti-aging Hair Care
BASF's DN-Age reportedly slows down the hair graying process and reduces hair loss by preventing UV-induced DNA damage to the scalp. The technology, which is extracted from Cassia alata leaves and titrated flavonoids, protects hair follicle cells to prevent hair graying and hair aging, according to the company.
It is available as a concentrated powder and a hydro-glycerin solution. BASF's placebo-controlled clinical study featuring 38 volunteers over a six-month period reportedly showed that DN-Age leads to greater hair density: 80% of the participants using DN-Age perceived their hair to be stronger, fuller, and thicker.
4. Gentle Scalp Care
BASF has developed a demo product, Men's Scalp Care Shampoo, which is designed to minimize scalp reactions to conventional shampoos, including redness, tautness, itching and dandruff.
The formulation, designed for daily use, comprises a mild surfactant, Plantapon LC 7, a micro-protein for restoring and strengthening the hair, Nutrilan Keratin LM, which is enabled by a conditioning system comprising Dehyquart Guar N and Cetiol LDO, and an anti-dandruff complex, Sanicapyl BC 10030.
5. Scalp Care Concept Formulations
Good scalp care is critical for healthy and younger-appearing hair. The benefits of a healthy scalp are well known in Asia and Europe, with awareness rising in North America.
That's why Lubrizol embraced scalp care with a range of demo formulations, including a sugar scrub non-foaming treatment comprising just eight ingredients, including the Carbopol Ultrez 30 polymer and Actiphyte papaya fruit, which supports the sloughing off of dead skin cells.
An oil pearl elixir for the scalp was an oil-based, non-silicone serum to offer low viscosity and good spread throughout the hair and scalp. The formulation comprised olive and argan oils to nourish the scalp, while leaving the hair smoother and shiner.
The formulation also included the Pemulen EZ-4U polymeric emulsifier, which allows for the suspension of oil droplets in an aqueous gel for an added visual effect. The serum also included Actiphyte avocado, which enriches dry skin and reduces UVB inflammation, while boosting DNA damage repair mechanisms triggered by pollution.
6. A New Pathway to Eliminating Gray Hair
IFF Lucas Meyer Cosmetics presented Greyverse (INCI: Glycerin (and) Water (aqua) (and) Palmitoyl Tetrapeptide 20), its biomimetic peptide, which clings to melanocyte receptors to stimulate melanin production and decreases oxidative stress, thereby stimulating hair pigmentation and revering the hair graying process.
The ingredient is appropriate for both men and women and can be formulated into products at a level of 0.5-2%. The ingredient can be applied to products to hide roots between color treatments or to allow consumers to avoid conventional dyes.
The ingredient can also be applied to products designed for the beard.
7. Keratin Repair from the Inside Out
Lubrizol presented Fixate Keratin, a new technology that counteracts the damaging effects of hair strengthening techniques that can cause dullness and breakage over time. The thermal-activated two-component technology reconstructs the hair from the inside or more than 10 washes.
Fixate Keratin, which is formaldehyde-free and boars a low fume profile, leverages encapsulation technology that offers long-lasting hair transformation, according to the company.
It also improves manageability, shine, softness and smoothness of the hair. The system was tested on more than 50 models with common hair types found in Brazil and North America, according to Lubrizol.
The company found that repeated applications of the technology does not damage hair; after one year, characteristics of hair fibers remain the same.
8. Experiential Styling
Dow presented a range of hair styling concepts based on its Aculyn rheology modifiers. The RichGel comprised Aculyn 88 and formed a shear-thinning gel, while HoneyGel contained Aculyn 88 and Aculyn 22 and offered the richness and perception of honey.
The company's MemoryGel was formulated with Aculyn 28 and featured a jelly texture and memory shape behavior, while the MeltiGel was developed with Aculyn 88 and Aculyn 28 and featured a melting texture and clean pick up.
9. Rebalancing Coconut-Avocado Hair Milk
Vantage presented a Coconut-Avocado Hair Milk concept designed to rebalance the hair with lipids. The formulation comprised coconut and avocado oil and coconut water and fruit juice, among other ingredients.
The formulation is water-thin and reportedly improves hair shine, frizz and overall appearance. The mixture can be applied in sprayable formats, cleansers, shampoos and conditioners, hair masks and treatments, hair styling products, hair boosters/enhancers, cold-process formulations, creams, lotions, cream-gels, serums, milks, and foundations and primers.