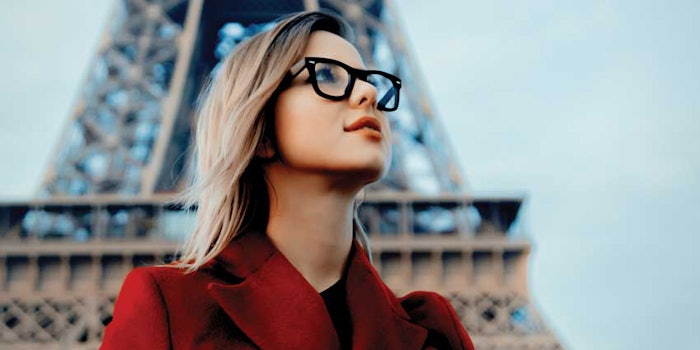 in-cosmetics Global is coming to Paris on April 2-4, 2019, delivering a showcase for the latest trend-driven ingredient innovation. For a full schedule of presentations, exhibitors, registration details and more, visit www.in-cosmetics.com.
"We are delighted to be returning to Paris for our 30th edition," said Roziani Zulkifli, in-cosmetics' exhibition manager. "For three decades in-cosmetics Global has provided beauty brands with a unique way to source the world's most exciting ingredients that allow them to tap into changing consumer preferences. And as the industry has evolved, we have added new elements to the show to ensure it remains engaging and invaluable to cosmetic chemists. The 2019 edition will bring together leading experts and the best suppliers, providing visitors with a unique opportunity to future proof their businesses by sourcing, learning and networking."
The State of Beauty & Personal Care Ingredients
According to data collected by Kline Groupa, the personal care ingredients business is valued at about $22.7 billion, with about $9.8 billion comprising specialties and active ingredients.
Top Markets and Suppliers
The United States and Europe continue to comprise the largest personal care ingredient markets, with China presenting strong growth. India and Southeast Asia are relatively small markets with great potential, according to the Kline data.
Kline reports that the fragmented market is dominated by large international firms that either provide wide or targeted portfolios, as well as regional firms.
Top Applications
It's no surprise that hair care and skin care drive the polymer and emollient markets, respectively, and that the product categories lead the industry in terms of ingredient market size.
Industry-defining Trends
Kline's ingredient sector research has found that consumers' increasing focus on labels, ingredients and certifications is rippling through the industry. This has led to the launch of brands comprising distinctive ingredients such as superfoods or natural materials sourced from specific or even brand-owned farms.
The Natural Ingredient Market: a Snapshot
Kline notes that naturals have transitioned into a marketplace that requires substantiated products. While synthetic materials still dominate the overall market, naturals represent strong growth opportunities.
Asia will be a top player in this respect. In a region with a robust natural heritage—think traditional Chinese medicine or Ayurvedic therapies—connected consumers are increasingly educated on ingredients and interested in not only trend-driven innovation, but also materials that derive from a local or regional heritage.
In addition, botanicals can sometimes offer brands and suppliers flexibility under tough regulations, such as those in the Chinese market.
For these reasons, India and China are already leading the way in the natural market growth, with China in particular leading botanical consumption growth. China has also taken a leadership position in biotech ingredient consumption.
To get a sense of how some of these trends are playing out in ingredient innovation, we present a sneak peek at the materials and concepts that will be debuting during in-cosmetics Global.
Innovation for a More V-shaped Face
V-shaped faces are coveted in a number of markets, including Asia, as are non-invasive cosmetic treatments. Now, Mibelle Biochemistry has launched PhytoCellTec Goji (INCI: Lycium Barbarum Callus Culture Extract (and) Isomalt (and) Lecithin (and) Aqua/water), an ingredient that promotes a V-shaped appearance.
The ingredient, based on a plant stem cell culture of a goji seedling, revitalizes aged mesenchymal stem cells and boosts their exosome production, which in turn boosts production of collagen and elastin by fibroblasts. The result is improved skin density and wrinkle depth, according to the company, and tightened facial contours for a "significant improvement of oval face shape."
Reawakening the Skin's Senses
Silab's Sensorialine is a natural cold-processed ingredient containing glycolipid active molecules that reportedly reactivate the epidermal olfactory and taste receptors that are disrupted in the aging process. The company argues that the expression of these epidermal smell and taste receptors stimulates cutaneous regeneration, particularly cell proliferation, migration and differentiation.
Sensorialine, tested at 2.5% for 14 days with Asian and Caucasian volunteers, reportedly reduced transepidermal water loss "significantly." In addition, a consumer test conducted on a panel with mature skin resulted in 85% of participants assessing their skin as more moisturized after one application; 77% confirmed the same after two weeks of application. Nearly half of the participants reported a moisturizing effect that lasted more than three hours upon the first application.
Sensorialine is derived from certified coconut flour produced in Sri Lanka. Cold-processing of the fruit's white flesh includes Silab's proprietary eco-extraction process, which is gentle and yields an ingredient with efficacy and a signature scent.
Unique Effects in Skin Care and Color Cosmetics
Omya Consumer Goods will present the COSMOS- and Natrue-certified Omyaskin minerals for color cosmetics and skin care. The particles offer a pleasant skin feel and feature high porosity for high-absorbency, and a large surface area for enhanced opacity and coverage. Omyaskin can reportedly replace kaolin and talc in formulations and support the performance of titanium dioxide by optimizing coverage.
"Due to the particles' porous structure, the composed minerals are able to absorb sebum, reduce drying time and deliver a matte finish," says Stefan Lander, vice president, consumer goods, group sales and marketing at Omya. "Adding between one and 10% Omyaskin to a formulation enhances the compressibility and also the ability of the end product to provide smoothness and a softer skin feel."
The company also features Omyacare natural calcium carbonate ingredients for skin care. The white minerals are reportedly ideal for a wide range of applications. Both ingredients will be featured in demo lipsticks, foundations, body lotions and soap bars during in-cosmetics Global.
Finally, Omya will present Cosmospheres, cellulose-based additives for visual effects and carrier functions in cosmetics. Cosmospheres soften in water-containing formulations and can carry liquid or powder ingredients, colors and pigments, hydrating oils, fragrance and more. In addition, the spheres reportedly spread easily on the skin and leave behind no residue.
Eco-friendly Skin Brightening
During in-cosmetics Global, Sederma will unveil a new brightening active ingredient designed for olive skin associated with phototypes III to V. The technology is derived via an eco-friendly plant cell culture and addresses dullness, heterogeneous pigmentation, hypersensitivity and dehydration.
Beauty with a Soft Touch
Hallstar's new biomimetic active emollient, Sensolene Light ET, mimics the effect of a low-viscosity silicone. The ingredient is produced using the company's Oléo-éco-extraction process and combines soft-touch sensorial effects with antioxidant properties derived from olive leaf actives. The ingredient is appropriate for skin, sun hair care and makeup applications, according to the company.
Botox-like Peptide
Lipotrue will be unveiling a new botulinum toxin-like peptide during in-cosmetics Global. The technology reportedly has pre-synaptic and post-synaptic activity and targets a specific protein in the SNARE complex critical to the communication between nerve and muscle cells. The result is muscle contraction and, thus, the diminishing appearance of wrinkles.
Sleep-deprived Anti-aging
Lipotec Active Ingredients will present Dawnergy, a peptide that targets the "cellular alarm clock" in order to "wake up" the skin and boost mitochondrial function for anti-aging effects. The innovation addresses consumers with busy lifestyles who lack sleep and have inadvertently disrupted the cycle of their skin clock. The result is a more luminous and rejuvenated-appearing complexion, according to the company.
Stopping Inflammaging in its Tracks
Clariant will unveil a new active during in-cosmetics Global that will target Nc886, an RNA that impedes aging and inflammaging by interacting with a key protein. The result is a defense against aging and photoaging.
Fighting Stress and DNA Damage
Evonik will present NeoPlanta Withania (INCI: Withania Somnifera Root Extract (and) Glycerin (and) Water), based on the benefits of Withania somnifera, which has historically been applied to support the immune system, support vitality and reduce stress. The supplier has used in vitro cultivation to enhance the plant's capabilities to fight oxidative stress and protect against DNA damage. The result, according to the company, is a smooth and healthy skin appearance.
Footnotes:
awww.klinegroup.com/ingredients-20172018-highlights/