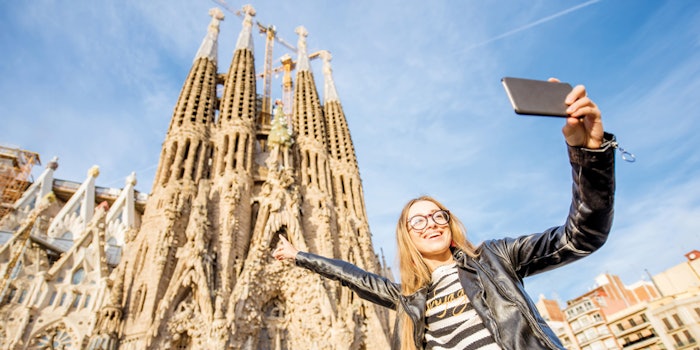 in-cosmetics Global 2020a, held June 30-July 2, 2020, in Barcelona, will feature the latest ingredient launches that will reshape beauty innovation in the coming years. It will also offer insights into the marketplace during a series of technical and trend presentations, including sessions highlighted in "Ocean-safe Beauty" and "Personalization: Decluttering Skin Care," presented in Global Cosmetic Industry in January and February 2020, respectivelyb. Here, we wrap up the latest new launch announcements, recent ingredient introductions and trending research.
Foam Booster
Ashland's ClearHance C (INCI: cassia hydroxypropyltrimonium chloride) is a nature-derived polymer that imparts conditioning functionality and enhanced foam to clear and transparent shampoos, conditioners, body washes and liquid soaps. Growing in popularity with consumers, clear rinse-off products denote purity and mildness; consumers expect these products to provide the same level of conditioning as in opaque, pearlescent systems. The clear conditioning polymer is a two-step modified cassia gum. Due to its natural-based backbone, the ingredient delivers a naturalness level of 70%, according to ISO 16128. It provides formulation flexibility, delivering strong performance benefits for both sulfate-based and sulfate-free rinse-off systems.
1990s-Inspired Makeup
During in-cosmetics Global, IFF/Lucas Meyer will introduce Color'Ethics, a makeup collection "designed to allow users to express their inner and outer beauty." The 1990s-inspired concepts draw on contemporary ethics and values to arrive at five formulations that omit "controversial ingredients" without sacrificing unique sensory properties and color delivery.
The Drew Tinted Hydraflow is a light tinted fluid with a "second-skin effect for optimum comfort, radiance and protection." The Halle Midnight Mascara offers a long-lasting voluptuous look. The ruby Cashmere Lipstick has a long-lasting soft feel and generates an effect to smooth out the appearance of lip lines. The Vanessa Blossom Blush is a powdery cream blush for a soft feel and delicate pink shade. Finally, the bouncy jelly Naomi Frosty Highlighter delivers a fresh and creamy feel and imparts a dewy look for the face and body.
Eco-glitter
Expect to see plenty of eco-friendly glitter alternatives during in-cosmetics in the wake of more brands and retailers moving away from conventional grades. Recently, Selfridges pledged to ban cosmetic glitters containing microplastics from its stores by 2021 as part of a larger mission to reduce its plastic footprint.
UV Defense Pigments
Seaspire Inc. produces multifunctional performance colorants and actives inspired by nature. The company has used Xanthochrome pigments to create multiple optical effects while protecting against harmful UV radiation. An organic raw material, Xanthochrome is stable for multiple hours. It can prevent skin damage by collecting harmful UV-induced reactive oxygen species. Compared with physical and chemical filters, Xanthochrome also achieves criteria such as scattering and absorbing light, including UV-A, UV-B and near-IR, in addition to its photostability.
Microbiome-balanced Beauty
SILAB's Lactobiotyl natural postbiotic active ingredient reportedly delivers hydration and luminosity to dry skin. The technology has been tested in vitro in a 3D model of reconstructed epidermis subjected to a water stress. The ingredient was found to improve the integrity and renewal of the barrier, while preserving the equilibrium of the cutaneous microbiota, per the company. An in vivo test on volunteers with dry skin reportedly showed that Lactobiotyl boosts skin quality through hydration and a complexion-boosting effect. These benefits were demonstrated on the hands and faces of male and female volunteers featuring both Caucasian and Asian individuals.
Meanwhile, SILAB's Ecobiotys (INCI: yeast extract) is rich in biopeptides from the yeast Metschnikowia reukaufii, which has been isolated from the nectar of the porcelain flower, Hoya carnosa. The resulting ingredient, available in aqueous solution (suggested use level: 0.5-2.5%) is able to restore the functional performance of the skin's immune and mechanical barriers and regulate the ecology of mature skin, acting on the distribution of bacterial communities. Therefore, even mature skin is able to recover its radiant complexion, per the company.
In addition, during in-cosmetics, GoBiotics BV will present new research about how its prebiotic PreBiulin FOS (INCI: inulin (and) fructose) and PreBiulin AGA (INCI: inulin) support the skin microbiota and remain stable with surfactants. In addition, the effects of various cosmetic ingredients on the skin microbiome will be disclosed.
For instance, the company will reveal research on how cosmetic ingredients such as alcohol, preservatives, surfactants and vitamins influence the protective skin microbiome. The company's PreBiulin FOS, extracted from Cichorium intybus (chicory) root and enzymatically purified to a chain length of 10 fructose units or higher, will be shown to preserve the skin by balancing the human skin microbiota. It also controls the microorganism responsible for body odor, per the company.
PreBiulin AGA, comprising a synergistic union of high molecular weight chicory and agave inulin, will be highlighted for its dual action of hydrating and undoing the damaging effects of preservatives.
Finally, Royal DSM is collaborating with S-Biomedic to bring a probiotic technology-based skin care active to the market as an acne treatment. Researchers from S-Biomedic have reportedly been studying how live bacteria can be used to modulate the skin microbiome's composition. These research findings have created opportunities for the development of probiotic solutions that could help improve microbiome status from diseased to healthy, specifically in the area of inflammatory acne.
Under the terms of the agreement, DSM will contribute its manufacturing and commercialization expertise. The companies plan to start commercializing the new technology within the next 18-24 months.
"We observed better results using a multi-strain donor solution with recipient skin rich in a specific Cutibacterium acnes subtype, with positive features isolated from healthy individuals," said Bernhard Paetzold, lead author of the study and co-founder and chief scientific officer of S-Biomedic.
Preservation Redefined
French biotech company Deinove is partnering with cosmetic preservation specialist Sharon Laboratories to develop cosmetic bioactives. The collaborative R&D program is planned for an initial term of three years and is expected to benefit from the collection of rare microorganisms. Deinove uses this bacterial biodiversity bank to discover, develop and produce antibiotics and cosmetic bioactives of natural origin to invent new generations of sustainable cosmetics. The company reportedly intends to quickly bring this expertise and its products to commercialization.
Meanwhile, DSM, in partnership with fermentation expert Nøøvista, has introduced the multifunctional Tilamar PDO (1,3-propanediol), which offers benefits as a solvent, humectant and preservative booster for all cosmetic applications. The non-GMO, cosmetic-grade material is being produced at the company's Metex Nøøvista production site at Carling Saint Avold, France. The production at this first European plant is planned to start at the end of 2020.
Sustainable Palm Progress
Inolex has fully transitioned all palm-derived products within its portfolio exclusively to Roundtable on Sustainable Palm Oil (RSPO) Mass Balance-certified material as part of its Balance & Act Program. All palm-derived products will now be manufactured exclusively from RSPO Mass Balance-certified materials, which will be designated by the "MB" at the end of the product name.
To sell MB products, a site must comply with the RSPO standard, undergo an audit and maintain its certification. The MB versions of products are chemically equivalent to the original productc.
Meanwhile, Colonial has introduced S18PF (INCI: stearamidopropyl dimethylamine), a quat-free conditioning aid produced from a palm-free stearic source. The ingredient is said to improve wet and dry combing, as well as reduce frizz and fly-away hairs. When neutralized with a wide variety of organic acids, including fatty or amino, it becomes cationic for excellent substantivity and efficacy, providing superior conditioning performance over traditional triple-pressed stearic-derived material.
Clean Fragrance
This year for in-cosmetics Barcelona, Sozio will present a new collection of 100% natural and organic fragrances approved by COSMOS. The scents will leverage combinations of trending ingredients by Sozio master perfumers. The company will also highlight a range of clean fragrances (aligned with its Clean Fragrance label) for cosmetics, which will follow restrictive guidelines in order to provide safe solutions for human application and the environment.
For the full article, check out Global Cosmetic Industry's March digital magazine. 
Footnotes:
Barcelona will play host to the 2020 in-cosmetics Global show, featuring the latest beauty ingredient innovations entering the market.
awww.in-cosmetics.com
b"Ocean-safe Beauty," http://gcimagazine.texterity.com/gcimagazine/january_2020 "Personalization: Decluttering Skin Care," http://gcimagazine.texterity.com/gcimagazine/february_2020
cElsewhere, Inolex is participating in the USDA BioPreferred Program to independently certify the naturality and sustainability of its plant-derived technologies. As of December 31, 2019, Inolex had 83 beauty/personal care products confirmed under the program.