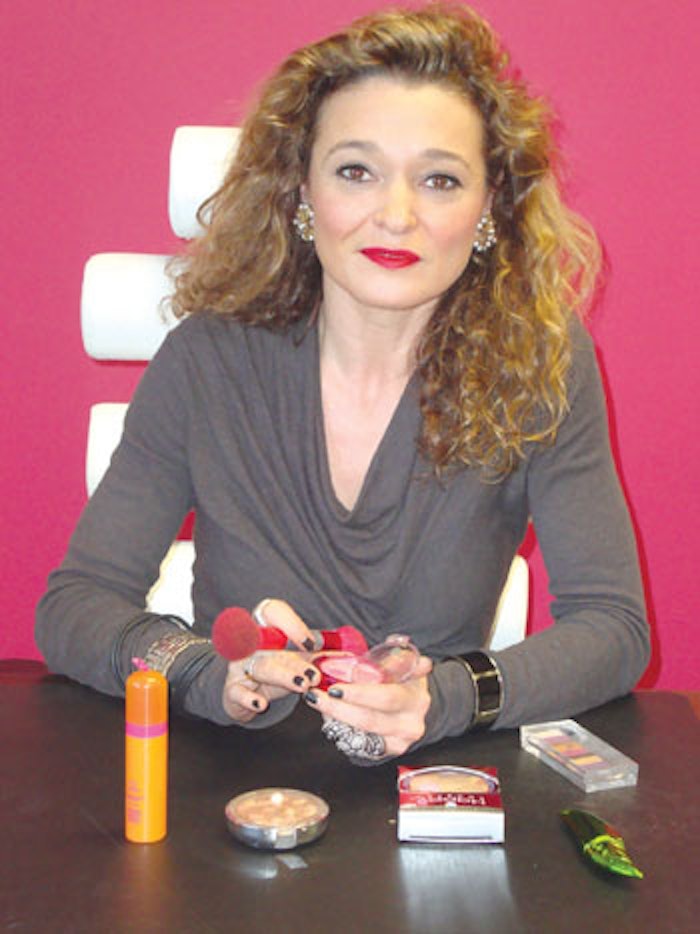 Able to survive in an "industry of giants," Physicians Formula CEO Ingrid Jackel guides the company to be a leader in innovation, aiming to create new categories and segments in the marketplace.
Jackel leverages her competitors' advertising dollars to her advantage, making sure Physicians Formula has first-of-its-kind products on the market, and then capitalizing on the attention drawn to the segment when competitors follow.
Drawing customers in with unique concepts that make people look twice at new products while walking down an aisle is something Jackel dubs the "pursuit of wow" strategy.
When Ingrid Jackel was a teenager in Toulouse, France, her parents allowed her to wear very little makeup. "Just black eye liner on the inner rim of the lower lash—and a bit of butter from the fridge dabbed onto my lips for gloss. And that was just for very, very special occasions," Jackel laughs.
Now the CEO and chairwoman of Physicians Formula, Jackel has come a long way from her minimal makeup days, but she has retained a dedicated connection to finding innovative ways to solve beauty problems. Jackel began her journey to CEO working for Pierre Fabre, a French company that owned Physicians Formula from 1990 to 2003. "I was initially sent to the U.S. by the French corporation because I had done my MBA here and I had done my thesis for them," she explains. After working for the company's Elancyl line, Jackel soon found a home with Physicians Formula. "I quickly fell in love with it," she says, and she rose through the ranks, joining as the director of marketing and growing to become the CEO in 2006. Pierre Fabre had sold Physicians Formula to the private equity firm Summit Partners in 2003, and then Physicians Formula itself went public in late 2006, with Jackel ringing the bell when the stock became available for public offering through NASDAQ.
Beyond her history with the company, however, Jackel has always felt a resonance with the brand's roots. "This company was created in Los Angeles in 1937 by an allergist—a doctor—from the back of his practice on Wilshire Boulevard," she explains. "He started to mix ingredients and create skin care and makeup products for his patients who had allergies, but mostly for his wife, because she had lupus, which is a really serious skin condition."
That physician Frank Crandall was among the first to put SPF into makeup, Jackel explains. "If you think back to 1937—at the time, no one even knew they shouldn't expose themselves to the sun, so that was really pioneering on his part. And that's what we try to keep alive today. That's how we make a name for ourselves in this industry of giants."
Emphasis on Innovation
"Basically, what we've done with Physicians Formula is to look at makeup as a problem solution category, as opposed to just a fashion category," Jackel explains of the brand's positioning. "We repositioned the brand in 1997 around a more ethical, problem solution-driven positioning, but we brought on top of it innovation, including many first-to-market concepts."
That idea of innovation is the major focus at Physicians Formula, and as such, Jackel finds it vital to ingrain the same principles into the company's employees. "I really wanted to infuse that passion for innovation and first-to-market ideas throughout the organization," she says. "We have an integrated, cross-functional new product development process instead of an isolated new product development department. Up front, I wanted to make sure that our entire marketing team was involved in new product development. A product manager should not just take care of promotions in a given category. I didn't want a fragmented organization, but rather functions orientated around innovation, including marketing, R&D, procurement, sales and operations. For instance, by involving sales personnel, who are in contact with the retailers every day, we see things in a different light. And of course in the manufacturing plant, same thing—you could have a great idea coming from a comment made from somebody who works on the machine and sees how suddenly that nozzle could also do something new. I think it is such an asset to have people throughout different departments, with their different expertise, be able to contribute."
To maintain this level of innovation in its employees, Jackel has also instituted a unique interview and hiring process to fill open positions at Physicians Formula. After going through an initial round of interviews, Jackel narrows it down to candidates who then have to give a presentation on a new product to the Physicians Formula team. Once the team determines a final candidate, the decision to hire that person must be unanimous among the team members who that person will be working with. "That makes the person feel that, 'Everyone wants me here,' and they are able to start working with that kind of trust and relationship already established," Jackel says. "It also shows those employees what kind of skills this person has and how they will be utilized to contribute to the team and the company."
Though Jackel admits this hiring process has caused her moments of frustration in the past, it has led to much longevity and loyalty among the company's approximately 200 employees. "Everyone feels a commitment to their team and their products," she says. "I feel like we are a hybrid of a family culture and an entrepreneurial one. It creates an atmosphere of safety, where people can dare to take risks. They have a feeling of safety, which allows them to be more creative, as opposed to becoming more complacent."
In the development and debut of the brand's 40–45 new products each year, Jackel always starts in brainstorming sessions, sketching out ideas, taking notes and focusing on larger global macro trends. In these sessions, which take anywhere from a few days to a few weeks, Jackel and her team come up with and tweak products that speak directly to consumers, and among some of Physicians Formula's prominent innovations are a major elevation of the bronzer segment; one of the first mineral makeup lines and certified organic makeup lines available through food, drug and mass stores; and a new mood-boosting collection directed at brightening consumers' lives following the recession.
Making It In the Marketplace
Jackel also puts a major emphasis on offering quality products. "Bringing class to mass was also a bit of the obsession when we were positioning the brand," she says. "By that I mean, really working on department store type of concepts, high-quality products but brought at affordable price in food, drug and mass. Our retail partners are calling us the category-changing innovator." Being a smaller company in the beauty brand universe, Physicians Formula also has to be smart about the way it introduces and expands its brand. "We bring first-to-market concepts to our channel at our scale. As long at its first-to-market, we'll grab enough attention from consumers to create a category. And in this way, we've created, from scratch, entire categories and segments in the industry," Jackel says. "What may happen is a year after the competition may copy us. And you know what? That's fine, because once they copy us, they spend a tremendous amount of dollars behind the concept, telling consumers, 'Go to your drug stores, go to your mass retailer, and find this concept or this product.' Now [the consumer] ends up in the middle of the aisle, facing not only our competitors but us. We've been copied quite a bit, but, I'm OK with that. It expands the market, makes people aware and educates the consumer."
For Physicians Formula, the goal is to create products that attract attention in and of themselves to draw in customers. "We have a strategy in-house that we call the 'pursuit of wow,' or the 'What the heck is this?' strategy," Jackel explains. "We figured since we can't scream at her on TV most of the time, we should attract [the consumer's] attention as she's walking down the aisle, because this is really where she's making her buying decision. We know we have a fraction of a second to attract her attention, and we do it with very strong visuals. Everything has a very strong element of design. Either the packaging is completely unique or the product design is. "On top of bringing a unique product in terms of formulation or positioning, we try to make sure that it looks unique from the wall," Jackel continues. "This category has a really high level of brand switching. If somebody launches a new foundation, then a consumer may try this one instead of somebody else's. So it's about attracting her attention. Our wall presentation is our billboard, really. And as she's walking down the aisle, what we've achieved is to make her stop and ask herself the question, 'What the heck is this?' And that's our 'pursuit of wow' strategy."
It's also about taking the time to consider what will stop the consumer in the aisle. Jackel says many product innovations, such as the new mood-enhancing Happy Booster collection, address problems consumers are experiencing now. "We have consumers who are becoming more and more savvy about what's going on in department stores, about what's going on in the professional makeup world, and so we want them to recognize on our shelves a unique proposition," she says. "We constantly reassess our products to make sure we are providing the most impactful mix."
To ensure additional impact, Jackel leaves no stone unturned when thinking about attracting potential purchasers. "We want to make sure that we can play a really unique role with the consumer, and consequently, with the retailers, bringing them incremental revenues," she explains.
Making aggressively significant investments in promoting the brand in 2011, Jackel is now involving the brand more in the consumer press, in social media opportunities and even in retail marketing programs. "We increasingly want to educate consumers about Physicians Formula and about how we can help them solve their problems," Jackel explains.
Becoming Something Bigger
Becoming stagnant is not an option for Jackel or Physicians Formula. "We thrive through newness," she says, estimating that 35–45% of the company's sales each year are from new products. And with such a commitment to innovation, the company also is very focused on strategically growing. "Because we are so innovation intensive, we tend to expand into adjacent categories," Jackel explains, noting that the company currently offers a limited amount of lip products because it wants to have a significant impact when they do launch something new. "We don't want to launch just another mauve lipstick," she says. "We want to maintain the purity of our focus on innovation."
As the brand begins to reach a more global audience—expanding into Canada, Latin America, Europe, Australia and South Africa—staying true to the principles that have made the brand and the company strong to this point are at the forefront of Jackel's considerations. "Our tagline—'Your beauty. Our passion. We promise.'—is about conveying the passion of the people working behind the brand to consumers," she says. "It's about a promise we make to help our customers, and that, to us, is a meaningful commitment."