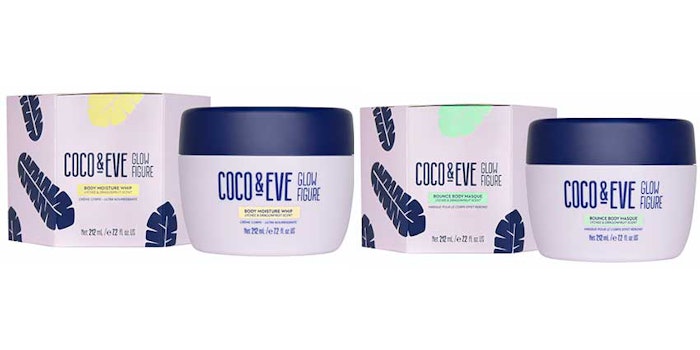 Coco & Eve will soon release its vegan three-step body product line that is used to help sculpt and tone skin in March 2020.
The product line will include an exfoliant, Bali Buffing Sugar; a body mask, Bounce Body Masque; and a moisturizer, Body Moisture Whip. These three products have blends of Balinese botanicals including coconut oil to improve the appearance of skin, i.e., reduce stretch marks, cellulite and pigmentation. The products also contain a blend of lychee and dragon fruit for fragrance. The collection includes two accessories for application, a Jelly Massage Mitt and Smooth-on Shell Scoop.
The Bali Buffing Sugar is claimed to renew skin by triple exfoliation via a scrub. It prepares the skin for nutrients and actives while smoothing and renewing. Key ingredients are coconut flower sugar and shell powder to renew and revitalize skin; volcanic pumice to remove the dead skin cells and reduce pigmentation; and coconut oil for hydration and smoothing benefits.
The Bounce Body Masque is designed to draw out toxins and impurities for tighter and firmer skin. Key ingredients are volcanic clay to sculpt the skin; green coffee and algae to contract and tighten; mango for antioxidant properties and to brighten skin; and mangosteen to boost circulation, as it is reported to contain more caffeine than coffee.
Finally, the Body Moisture Whip aims to nourish, brighten and soothe skin. Its formula leaves skin feeling buttery soft while the amino acids fight cellulite, and hydrate and firm for supple skin. Key ingredients are virgin coconut oil, for the high fatty acid content to increase skin elasticity; cacao oil to promote smoothness and soften skin texture; mango, papaya and mangosteen for antioxidant properties and to brighten skin; and coffee seed extract to energize and tone.
For more information, visit the Coco & Eve website.