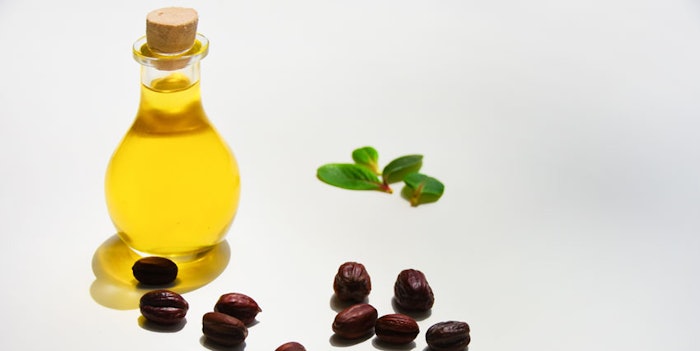 With the demand for natural, clean beauty products at an all-time high, brands have had to seek out natural solutions for shelf-stability. One of the ingredients meeting the requirements is jojoba oil.
According to Jojoba Desert, a supplier of jojoba oil, the oil's unique chemical structure and antioxidant content lend oxidative stability, resulting in longer shelf life and resistance towards free radicals. Jojoba oil is reportedly an ideal carrier oil for formulations containing oxidatively-sensitive vitamins, essential oils and other natural active materials.
According to the company, jojoba oil is natural, vegan and gluten-free; has a high resistance towards oxidation, resulting in a shelf life of at least 3 years; is non-toxic, non-comedogenic and non-allergenic; has an anti-inflammatory profile, which soothes irritated skin; is non-irritating and suitable for all skin types as well as babies; has wound-healing properties; is a 100% oil-free liquid wax, which provides moisture without leaving a greasy feeling; mimics the human sebum and acts as a highly effective vehicle for the skin's absorption of other active compounds and essential oils; and is all Omega 9 and contains vitamin E.
Lee Reuveni, CEO of Jojoba Desert, said, "As there's been an increase in demand for more natural ingredients in different textures and blend, it's no wonder that brands are turning toward the benefits of jojoba oil more and more. The market's change in perception was only a matter of time. It's exciting to see the impact Jojoba oil is already making in the beauty industry, and we believe it will continue to revolutionize skin care in the years to come."