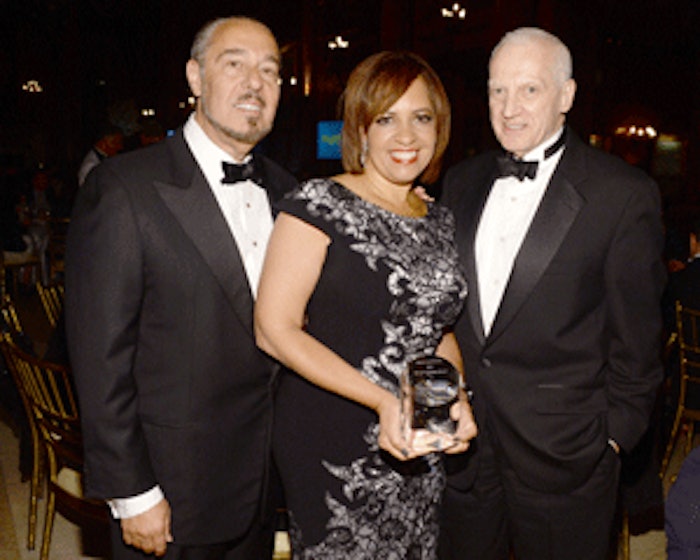 The Pratt Institute welcomed more than 250 guests at the 2014 edition of its annual Art of Packaging Award Gala, a glamorous event that celebrates excellence in packaging design. The gala, which was held May 6, 2014, at a private club in Manhattan, benefits the Marc Rosen Scholarship and Education Fund for Packaging by Design at Pratt Institute, and attracts leading companies and executives from the multi-billion dollar beauty industry. Emceed by Inside Edition anchor Deborah Norville, the event marked 25 years of the fund, which has helped raise more than $3.5 million for scholarships for graduate packaging design students at Pratt.
Sheryl Adkins-Green, CMO for Mary Kay Inc., accepted the Art of Packaging Award on behalf of the beauty brand. And Marc Rosen, an award-winning designer and Pratt alumnus, trustee emeritus and faculty member, was also presented with a special citation from Governor Andrew M. Cuomo that celebrated Rosen's 25 years of support to emerging packaging designers.
Special guests at the Art of Packaging Award Gala included actress Arlene Dahl; Pratt Institute president Thomas F. Schutte and his wife, Tess L. Schutte; Bruce Gitlin, Pratt board chair; Mike Pratt, Pratt vice board chair; Juliana Terian, Pratt trustee and Rallye Motors chairwoman; Laura Bohn, Pratt alumna and interior designer; Terence Mack, interior designer; Mark Ackermann, COO of Lighthouse Guild; and Donald Stannard, jewelry designer.
Industry luminaries in attendance included Fragrance Foundation president Elizabeth Musmanno; Mitchell Kaneff, CEO of Arkay Packaging; Theo Spilka, vice president of fine fragrance sales, and Jerry Vittoria, vice president of fine fragrances North America, Firmenich; Steven DeMercado, senior vice president for Fragrance Resources; Frederic Jacques, vice president of fine fragrance for Takasago; Cosimo Policastro, executive vice president of fine fragrance for Givaudan; Emanuel Mazzei, president of Heinz Glass; Matt Frost, vice president of global fragrance for IFF; and Michel Mane, president of Mane; as well as many more.
The Art of Packaging Award is presented each year to a beauty company that has excelled in the art form. Mary Kay Inc.'s President and CEO David Holl thanked Pratt Institute, Rosen and Adkins-Green for their contributions to packaging design via video, and Adkins-Green graciously accepted the award and was joined at the event by a team of executives from the company's Dallas headquarters.
"It is truly an honor to be recognized by Pratt Institute and to have been selected for this prestigious recognition by Marc Rosen," said Adkins-Green. "I am struck by the values and philosophies that Marc and Mary Kay share. First is a commitment to changing lives. The second connection is sales: high impact packaging design is essential to creating products that are easy to love and easy to sell. The third is appreciation of inner and outer beauty. At Mary Kay, we believe true beauty begins on the inside. And, as Marc says, design is not just about making things look pretty…it's about creating a sense of innovation and quality that helps the consumer understand the product within."
Rosen teaches a course on cosmetic and fragrance package design where students are challenged to create a perfume bottle prototype, a scent card, box, shopping bag and advertisement. To date, the fund has provided scholarships to more than 100 Pratt students, many of whom have become industry leaders. This year's student scholarship winners, each with fragrance packaging design work on display at the event, are:
Tonya Oberlender: Oberlender's "Enchanté" scent is a luxury evening floral fragrance for women. She created a design that is as elegant as an exquisite piece of jewelry.
Jessica Vande Werken: Vande Werken designed "Provocateur" around an exotic scent for distinguished, well-traveled women. The design is meant to arouse the senses and create an air of mystery.
Ivy Chen: Chen's "Q" scent is modern, with a hint of elegant glamour. The bottle is inspired by Modernist typography and art; the composition of basic geometries imply the form of the letter Q.
Chen Chen Hu: Hu's "Chuyu" scent is named for an ancient expression that means "the first rain" in Mandarin Chinese. The shape and color of the bottle reflect the freshness of green lotus leaves after the first rain.