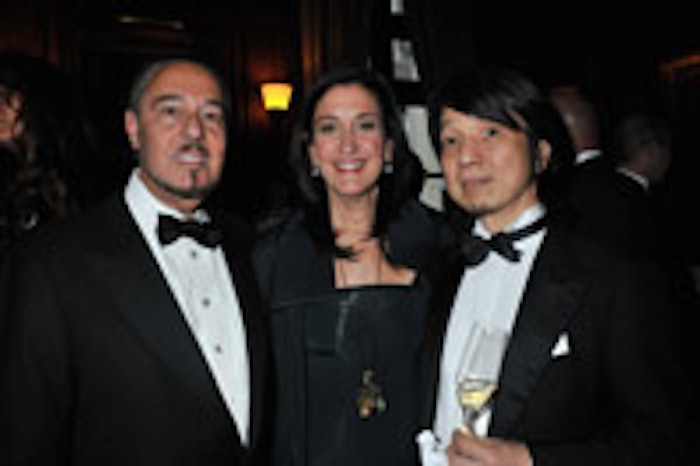 The Pratt Institute–Luxe Pack Art of Packaging Award Gala, which benefits the Marc Rosen Scholarship and Education Fund for Packaging by Design at Pratt Institute, hosted more than 250 guests at the New York's University Club on April 17, 2012, and honored Shiseido for the Japanese cosmetic company's outstanding commitment to package design. Hosted by supermodel Carol Alt, the event helped raise $300,000 for scholarships and graduate packaging design students at the Pratt Institute, and Heidi Manheimer, CEO of Shiseido Cosmetics America, and Katsuhiko Shibuya, creative director of Shiseido Co., Ltd., from the company's headquarters in Tokyo, were on hand to accept the Art of Packaging award.
"I am particularly pleased with our honoree this year," Marc Rosen said of Shiseido. "I think, in many ways, the Japanese created the art of packaging, and Shiseido being one of that country's largest and most famous cosmetic companies makes them a very apt honoree. Not only is their packaging beautiful and certainly something that the students at Pratt should aspire to—that level of creativity and quality of design—but their whole Japanese heritage and the fact that they've created such unique packaging over the decades is exciting to recognize. I love the fact that for the very first time we are recognizing a company from Asia this year [as well]."
Manheimer accepted the award on behalf of Shiseido, and said it is one that honors tradition, envisions the future and encourages the next generation of designers. She also stressed the company's enduring commitment to packaging design, which she said was an intrinsic part of the consumer relationship with the product.
Shibuya said the award was meaningful to receive, especially in New York, where the company's first president, Shinzo Fukuhara, received his education in pharmacy. He noted that packaging expands the experience of beauty, that it communicates without explanation and lets "the product speak for itself," as Fukuhara was known to say.
This year, 2012, also marked the celebration of Shiseido's 140th anniversary, as well as the Pratt Institute's 125th anniversary. "Pratt is celebrating its 125th anniversary and its legacy of innovative art and design education," said Rosen. "Shiseido's creativity will continue to serve as an inspiration to our students, the designers of tomorrow."
This year's Pratt scholarship winners were Renato Martins Cerqueira of Brazil; Wei-Hsin Lin of Taiwan; Aaron Mickelson of New York, and Maija Rozenfelde of Latvia. Each winner's fragrance packaging design work was on display in the lobby of the event venue.