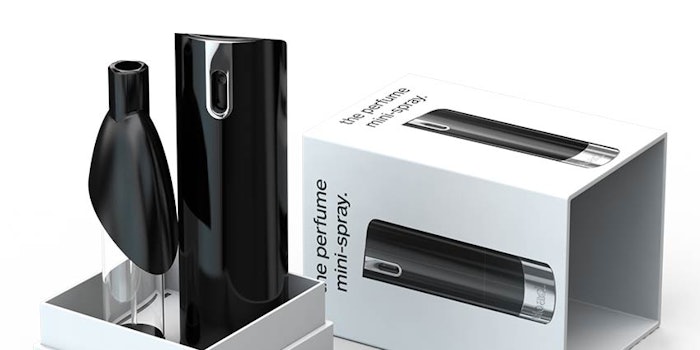 The package for your personal care product is the equivalent of a book's cover, and it's the first thing a consumer will judge. The same holds true when it comes to sample and travel packaging.
This is good news for your brand, because some of the newest, most novel small-sized packaging options provide you with the opportunity to wow new buyers, and strengthen brand loyalty for your existing ones.
Previously: The Importance of Color in Beauty Packaging
Fragrance's Mobility Problem
A brand that adds a travel-sized option gives customers an option they can't always find in a similar product—and this is especially true when it comes to fragrance. Indeed, most customers keep their fragrance at home, as the majority of fragrance lines don't offer a purse-sized travel vial.
Further reading: Packaging's Latest Muse: Watercolors
Seeing the absence of this in the marketplace led to a partnership between Axilone and Arcade Beauty for reload., a personalized and refillable mini-spray. The kit includes an empty, refillable vial, which gets inserted into a personalized and interchangeable shell, and a perfume filling funnel to assist the user with the process.
More in packaging: Smile! You're on Cosmetic Camera
The user can easily swap out the vial to replace it with other fragrances to match her mood for the day. Additionally, the user can purchase a variety of decorative outer shells, just as one might for a cell phone case.
Some fragrance brands, including Boss, Givenchy, Kenzo and Issey Miyake, are launching short-term, dedicated collections just for the reload. concept, available in 5-mL-vial formats. The package is currently produced in France and exclusively available in Europe.
Consistency at Any Size
A miniaturized version of your product can serve multiple purposes: as a travel-sized option; a sample-sized, entry-point package; or a promotional offer. What's most essential is that the smaller version reflects the brand that the consumer has come to know and trust.
The high-performance, mini airless dispenser Nano from Mega Airless can be designed as a perfect miniaturized replica of larger sizes offered for sale, thereby tying in the product closer to the brand as a whole. Available in 5-, 10- and 15-mL formats, the Nano offers versatility for skin care and cosmetics and is ideal for placement in gift sets, samples, travel packages and more.
"[I]t is vitally important that samples mirror the aesthetic of their full-size counterparts in order to drive home brand recognition and packaging familiarity that ultimately leads to sales for our customers," says Lesley Gadomski, Fusion Packaging's business development officer.
The packaging company was chosen by beauty brand Drunk Elephant to develop new 30-mL airless bottles for the C-Firma Day Serum and TLC Framboos Glycolic Night Serum.
"Additionally, the brand wanted mini versions of these items, along with the Umbra Sheer Physical Defense and Virgin Marula Luxury Facial Oil," says Gadomski. "They opted for Fusion's 8-mL Fresh Mini airless bottles and 15-mL Center-Dispensing Tube to create The Littles, 'a set of Drunk Elephant's six core essentials to nourish, balance, and reset skin to a healthy state.'"
It's a Snap
All consumers are looking for convenience, and certainly when it comes to sample packages. After all, who hasn't been disappointed by a sample package that was difficult to open or dispense?
In October of last year, Arcade Beauty partnered with Italian company Easysnap to develop an easy-opening, one-handed sample package, designed for all beauty and personal care segments. Easysnap, the flat, single-dose sample, can be opened when the user simply folds it in half with a single hand. This action will immediately open the pack in a controlled, process-patented dose at the center of the fold.
According to Arcade Beauty, simple pressure with the fingers will allow the user to control the flow of the product until it is completely finished. Benefits of this package and dispensing method include absolute hygiene and perfect formula protection.
Available for 0.8 mL to 4 mL of product per sample, Easysnap is appropriate for foundations, creams, serums, lotions, gels and even fragrance.
Extra Marketing Power
Sampling beyond the shelf is key to a beauty brand—the ability to advertise a product and provide a sample via mail and magazines is always beneficial.
The just-launched BeautiPod from Arcade Beauty, designed for its European clientele, is a flexible trial dose that fits onto an informational card, to which it remains attached. As such, the brand is strengthened by both the value of the sample and the corresponding brand message printed on the card.
Moreover, the card can be personalized into the language of each host country, without having to change the package. It is available in sizes containing between 1 mL to a generous 10 mL of liquid product, while its practical dispensing spout allows for mess-free application. The BeautiPod works for hair care, skin care and cosmetic applications, such as utilized by the Urban Decay Naked Skin liquid makeup.
It's always key to make sure the sample or travel-sized offering reinforces your brand, and an innovative, appealing—and useful—package shows that your brand goes the extra mile, and keeps consumer need at the forefront.
Additional Reading: Reusability is Key
Secondary packaging is often as important as the travel-sized products they contain.
For more than four decades, IMEX Packaging has supplied these bags, and kept up with the times in terms of their changing functionality. The zippered PVC bags have been favored by brands like Burt's Bees for years, and lend themselves to use long after your product has been sampled.
"The size is what makes a bag most likely to be reused," says Steve Jeffrey, president of IMEX. "Perfect for traveling, they're most of the time under a quart size, as required by the TSA. They also tend to be clear, another TSA requirement. The size also allows them to be reused in a purse or briefcase."
Lisa Doyle was formerly the associate editor of GCI magazine and is a freelance writer in the Chicago area. Her work has also appeared in Skin Inc. magazine, Salon Today, America's Best, Renew, Modern Salon and Writer's Digest.