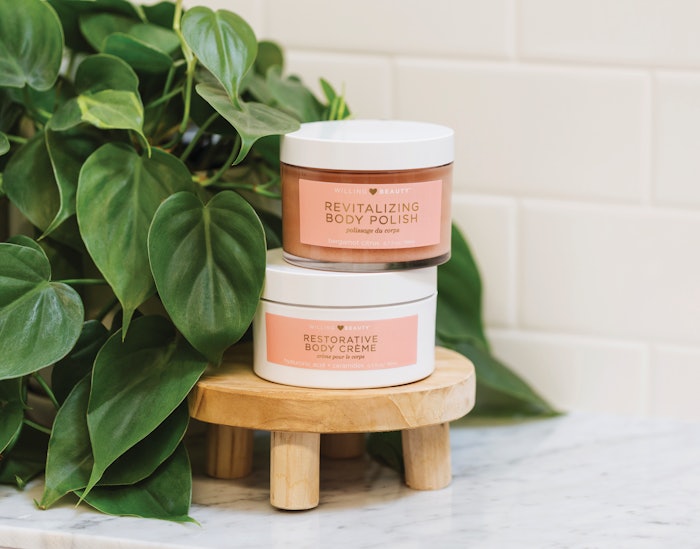 Manufacturers shared their latest body care packaging innovations that can be used for lotions, body scrubs and more.
1. Glass Bottles
Tara Stein, vice president of sales and business development, International Cosmetic Suppliers, says, "ICS recently partnered with True Botanicals, a luxurious, consciously crafted skin care brand on a mission to deliver clean and sustainable products, to help revamp their sustainable skin and body care line in a range of elegant glass bottles and jars. The packaging for the range was designed with sustainability and versatility in mind, using glass wherever possible for its recyclability benefits. Their range includes a family of molded glass jars and bottles, not only compatible with all their formulations, but also matched with various stock closures, including droppers, screw-on caps with reducer, lotion pumps and sprayers. The rich, earthy brown color used on the glass packaging emphasizes the reigning trend of natural, soft and sustainable. Paired with their new logo and printed with an elegant rose gold foil that elevates the packaging to sustainable luxury and creates a cohesive look across the entire range."
Maurizio Ficcadenti, global R&D manager, Baralan, says, "One recent packaging launch Baralan has had is the Olivia Slim Series, a line of cosmetical Boston round glass bottles explicitly developed for makeup, skin care and fragrance products. Characterized by its cylindrical shape and rounded shoulders, the new series consists of glass bottles in three different capacities and three colored glass options: transparent, amber and cobalt blue. This wide choice allows Baralan to satisfy both the aesthetic preferences and functional needs of its customers, especially considering amber and cobalt blue glass make an ideal match for light-sensitive products."
For the full article, check out Global Cosmetic Industry's January 2022 digital magazine.