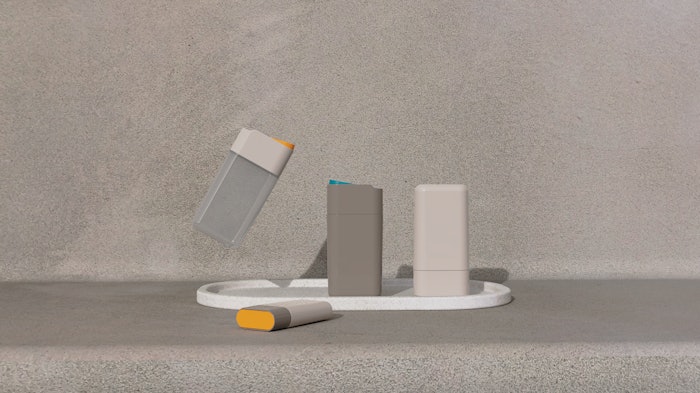 Visiting MakeUp/Luxe Pack in LA in February, Global Cosmetic Industry's editorial team picked up on a range of trends, including the proliferation of airless formats, refillable concepts, manufacturing and distribution shifts, and much more. Here, we share highlights for brands seeking packaging innovation for color, hair and skin care projects.
Tottles Are Back
Convenience and portability have led to a big comeback for tottle formats, according to a number of suppliers visited by Global Cosmetic Industry during the recent Luxe Pack/MakeUp in LA 2023 show.
For instance, NF Beauty Group's new Ambit Tottle (available in 30 ml and 50 ml fill sizes) features a racetrack configuration and elongated side press disc cap. The design is intended to support maximum usage of store display space, as when a brand displays multiple shades of foundation on a gondola. It also allows for minimal space usage inside a makeup bag or on a vanity. Furthermore, the flexible body makes it easy to squeeze out product. The Ambit Tottle will be available in variants with some percentage of PCR content, as well as various color and finish options.
Meanwhile, HCP's EcoWood Tottles comprise certified PEFC fibers and are created from natural by-products of cellulose processing in the paper industry. The tottles can be recycled alongside PP/PE packaging, and their carbon footprint is neutral to negative over the cradle-to-gate cycle, per HCP. The tottles feature strong chemical resistance, making them compatible with isododecane, SPF and aggressive formulas. In addition, deco options include UV lacquer, silk screen inks or foils.
For the full article, check out Global Cosmetic Industry's April 2023 digital magazine