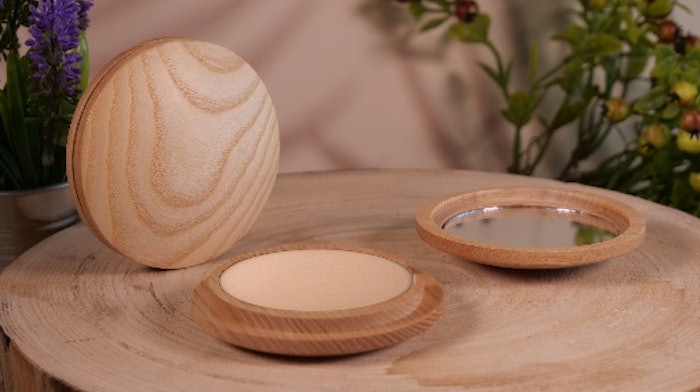 Quadpack's refillable Idol Woodacity Solo Twist Compact can be comfortably opened by both right and left-handed consumers with a quarter turn of the cap in any direction.
Further reading: Sustainable Packaging Trends: Monomaterial Designs, Refillables & More
The soft-edged, domed casing comprises 100% wood from European sustainably-managed forests (PEFC or FSC), per the supplier. The cap features an embedded mirror; because the compact's top and base are discrete parts, the cap can be used as a pocket mirror.
The compact can house a flat, refillable, metallic 59 mm godet, held in place by a small dismantlable magnet in the base, which reportedly eases the separation of components for recycling. A recess in the base allows the godet to be easily extracted by hand and replaced with a filled version.