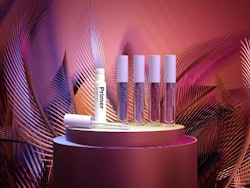 Quadpack's Gala dip-in color cosmetic packs comprise four applicators for eye, lip and face formulas:
The Elegant A rigid doe foot tool features a central reservoir on the tip, ideal for concealer and lip formulas that require rigidity and precision.
The Essential A round-tipped spatula with dual reservoirs on opposite sides is flexible and gentle for soft and easy application, per Quadpack.
The Glamorous A concave petal-shaped tool is flexible with a large reservoir for formula collection and a pointed tip for precise application.
The Irresistible A spoon-shaped applicator includes a central reservoir and rigid tip for control of highly pigmented lip products. 
The monomaterial packs feature 4.5 ml thick-wall bottles with applicators for specific uses. More than 95% of the packs' content is composed of recyclable PET, with the possibility of being delivered in 100% rPET.
Lifecycle assessments reportedly show that a switch to a full PCR version improves the pack's circularity index by 60%.
Deco options include hot-stamping and metallization.