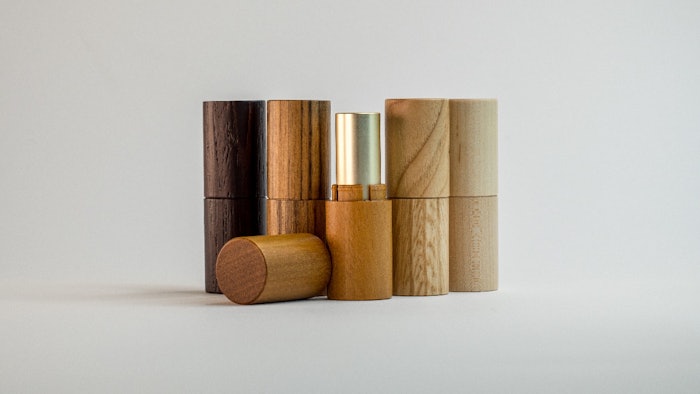 Quadpack's Iconic Woodacity 2.0 refillable lipstick format is now available with a new patented closure system, called Solo Snap, and wrapped in a custom monomaterial wooden casing.
It also features Aptar Beauty's Iconic lipstick mechanism, which is POM-free, glue-free and lubricant-free. The mechanism reportedly offers a smooth actuation of the bullet. Used mechanisms can be replaced by pulling them out and snapping in the new one.
The wood casing is available in 100% European-sourced ash or maple wood from sustainably-managed forests. PEFC and FSC certifications are available on demand.
The monomaterial wood can be customized with a wide array of designs and decoration techniques, per Quadpack.
The Solo Snap system offers a click closure due to an interior structure that functions without inserts or plastic. Quadpack explains, "Consumers simply pull the cap off and push it back on until it clicks."
The updated Iconic Woodacity 2.0 reportedly works well with standard filling lines.
The Aptar Beauty mechanisms are produced in its Chavanod facility in France, while the monomaterial wood casing is produced at Quadpack Wood in Catalonia, Spain.
Denisa Stircea, senior category lead at Quadpack, said, "Wood is all about emotions. Ash is a light-colored wood with a straight grain. Maple can be very smooth and shiny. Decoration can either highlight the unique grain patterns or give the product a premium look-and-feel–in that sense, it can also cater to brands looking for sustainable packaging without wood's natural aesthetics."
"The opening experience is perfectly adapted to this lipstick, while keeping the monomaterial and refillable features of the product," said Patrick Bousquel, marketing director beauty EMEA, Aptar Beauty.