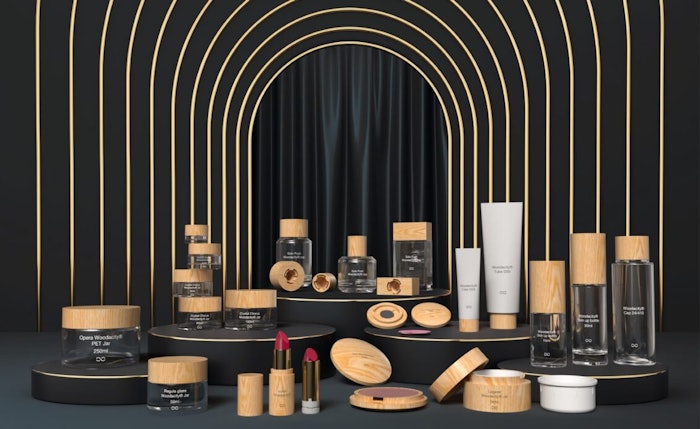 Quadpack has launched a monomaterial Woodacity Collection featuring all-wood designs and, by definition, no plastic components.
Woodacity components comprise wood from sustainably managed European forests, per Quadpack, with optional PEFC or FSC certification.
All are designed, produced, assembled and decorated at the Quadpack Wood factory in Spain, which reportedly uses renewable energy. The facility's temperature control and wood-drying ovens are fueled by a biomass boiler using production scrap.
The Woodacity range incorporates some of Quadpack's closure systems, including the Solo Twist, Solo Push, Solo Turn and Solo Snap.
Woodacity components' grain patterns can be enhanced with decoration options including laser engraving and layering, charring, and gold leaf appliqué. New finishes are forthcoming.
The collection comprises lipsticks, compacts, jars, and closures for perfume bottles, lotion packs and tubes:
Iconic Woodacity is a refillable lipstick in a full-wood case, developed with Aptar Beauty using its Iconic mechanism.
Woodacity Glass & Wood combines wooden caps with Quadpack's glass Crystal Chorus jars (4 ml to 100 ml) and Skin-Up bottles with pumps (15 ml and 30 ml).
Woodacity Legend is a refillable jar featuring the Solo Twist system.
Woodacity Idol is a refillable compact designed for left- and right-handed usage, with a reusable pocket mirror.
Woodacity caps for lotion bottles are designed for a standard 24/410 neck; they can be used with or without a reducer, allowing consumers to pour directly from the bottle.
Woodacity caps for tubes are designed for monolayer or aluminum tubes. 
Denisa Stircea, category lead at Quadpack, said, "We are very proud to have built a collection of Woodacity solutions for almost every packaging need over the past two years. Part of the motivation to create Woodacity was to optimize the end-of-life solution for wood as best as we could–and that is exactly what we have achieved. Woodacity is all-natural, non-toxic and looks 100% premium–it's impossible not to fall in love with it! Plus, our original caps remain the best technology available for full-wood closure systems."