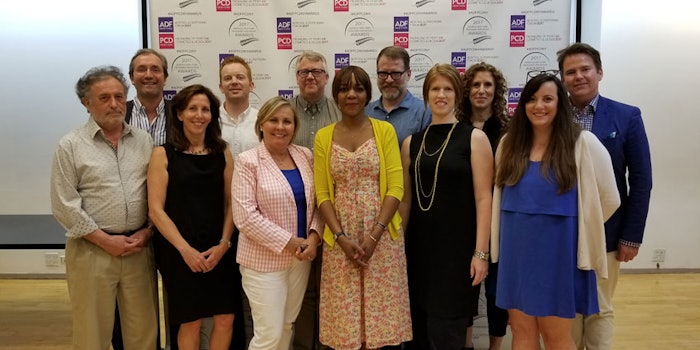 ADF (Aerosol Dispensing Forum) and PCD (Packaging of Perfume, Cosmetics & Design) has announced its shortlist for the second annual Innovation Awards. 
The shortlisted packaging products were judged by an independent jury of packaging experts, including Paul Austin, Austin Advisory Group; Cynthia Hundley, Spray Magazine; Lorraine Keyes-Ahart, Estée Lauder; Detlev Melcher, Aerosol Europe Magazine; Deanna Utroske, cosmeticsdesign.com; Ian Nicholson, Colgate-Palmolive Co; Eric O'Toole, PRATT Institute; Bernard Quennessen, Coty; Marianne Rosner Kilmchuck, Fashion Institute of Technology (FIT); Valery Vanstaan, PHD, ITW.
This year's shortlist honors innovations for the aerosol, dispensing, perfume and cosmetic packaging market to be revealed at ADF&PCD show, September 6.
The Shortlist for the 2017 ADF&PCD Innovation Awards
ADF Personal care
Coppertone - Whipped Lotion Sunscreen
Kanebo - Evita Beauty Whip Soap
Roger & Gallet - Aura Mirabilis
ADF Industrial & technical suppliers' application  
Ball Corporation - L'Oréal Men Expert can
Hinterkopf - D240&D120 new design capabilities
Ball Corporation - tactile Ball sample can
PCD Skincare
Aveda - Tulasara Wedding Masque
Dior - Hydra Life
Jil Sander - Softly
PCD Make up
Bobbi Brown -  Liquid Lip Art Stick
MAC x Mariah Carey
Pretty Vulgar "The feathers" mascara
PCD Haircare
Garnier Fructis renovation
Redken Heatcure hair restoration
Pureology line in 100% PCR
PCD Fragrance
Calvin Klein CK One Gold
Jil Sander Simply Art of Layering
Natalie Wood Eau de Parfum
Lorraine Keyes-Ahart, Clinique Global Package Development at Estée Lauder, said, "I really enjoyed participating in the ADF&PCD awards jury. It was very exciting to see the many innovations in materials, design, manufacturing methods and decoration up for consideration for awards this year."
Ian Nicholson, worldwide director strategic innovation & technology alliances at Colgate Palmolive, added, "The award submissions are great examples of creative companies seeking to better meet the needs of their users, which is essential in delivering superior business results."
For the full list and interviews with this year's ADF&PCD show speakers please visit: www.easyfairs.com 
To register for this year's ADF&PCD show on September 6, please visit: www.registration.n200.com