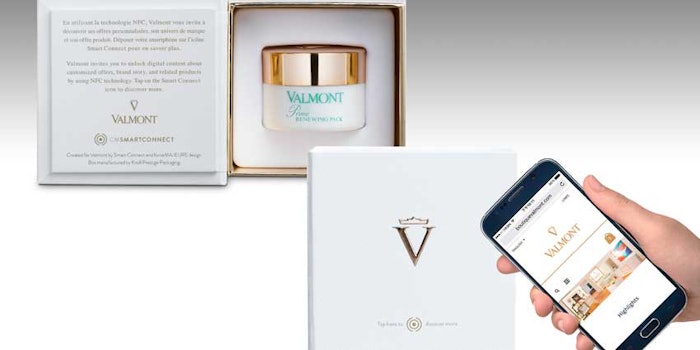 Thin Film Electronics ASA (Thinfilm) has announced a partnership and related market trial with CMSmartconnect and Valmont Cosmetics.
According to the company, CMSmartconnect will integrate Thinfilm's SpeedTap(TM) NFC (near field communication) technology into Valmont Cosmetics packaging. This integration will allow the brand to "instantly deliver expert, customer-specific beauty advice for consumers through the simple tap of a smartphone." 

The Details 
Each package in Valmont's anti-aging line will feature a "tap here to discover more" call to action
Using their smartphone, customers will be directed to a customized landing page featuring brand information, the product's ingredients, application instructions, preview complimentary products and the option to shop products online
SpeedTap tags each have a unique ID that is fully integrated with Thinfilm's CNECT(TM) cloud-based software platform 
These tags will help to manage marketing campaigns, monitor real-time tapping activity and generate analytics and reporting 
CEO of Thinfilm Davor Sutija, said, "We're pleased that Valmont Cosmetics chose to integrate our SpeedTap technology in their premium anti-aging product line. This unique collaboration with CMSmartconnect and Valmont marks Thinfilm's first NFC solutions field trial in the cosmetics industry. Our NFC solution for brand-to-consumer applications opens new pathways for premium cosmetics brands like Valmont to directly connect with their customers, enhance brand loyalty, and drive repeat purchases."
Sophie Guillon, CEO of Valmont Cosmetics, added, "We chose Thinfilm's SpeedTap tags because of their unique ability to facilitate one-to-one conversations with our customers and to extend those relationships beyond the spa and retail environments. When our customers engage with us using this mobile technology, we can instantly provide custom advice and learn more about their needs.