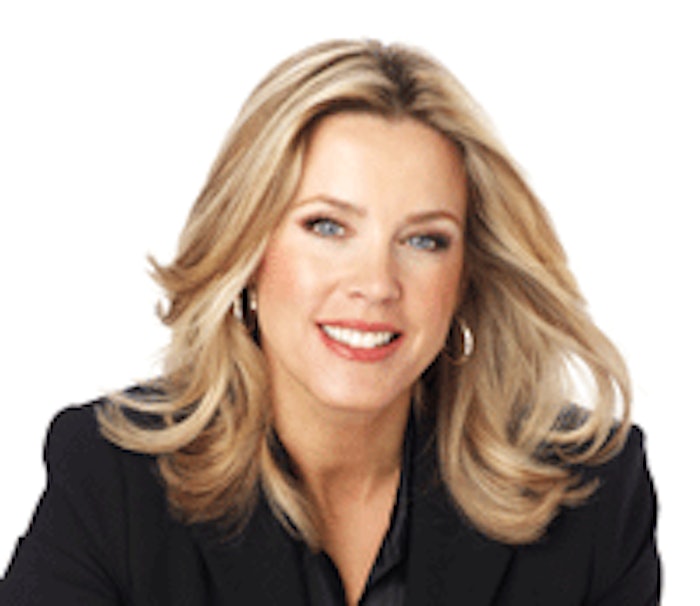 Pratt Institute announced two-time Emmy winner Deborah Norville will be the host for the 2014 Art of Packaging Gala, set to be held May 6, 2014, at The University Club of New York and where Mary Kay Inc. will be honored for its commitment to outstanding beauty packaging.
Norville, a veteran journalist is known to millions as anchor of Inside Edition, has been a regular presence at the Ernst and Young Strategic Growth Forum and is the author of a number of books, including the New York Times bestseller Thank You Power: Making the Science of Gratitude Work for You, which was followed by The Power of Respect, detailing the measurable benefits that result from respectful behavior. A lifelong crafter and seamstress, Norville also markets the Deborah Norville Yarn Collection. The line of high-quality yarn for knit and crochet enthusiasts has grown 678% in sales since its introduction five years ago. Additionally, Norville is a director of the Viacom Corporation, where she serves on the compensation committee. She regularly addresses business and community groups and is active with a number of charities including the Broadcasters Foundation of America.
The gala benefits the Marc Rosen Scholarship and Education Fund for Packaging by Design at Pratt Institute and attracts leading companies and executives from multi-billion dollar cosmetics industry. Now in its 25th year, the fund is the world's only scholarship for masters-level students looking to pursue careers in cosmetics and packaging design. To date, it has provided scholarships to nearly 100 Pratt students, many of whom have become beauty industry leaders.
The Art of Packaging Award is presented annually to a beauty company that has excelled in the art form of package design. With three million Mary Kay independent beauty consultants and $3 billion in global annual wholesale sales, Mary Kay is a top beauty brand and direct seller. Mary Kay products are sold in more 37 markets around the world, and it joins previous Art of Packaging recipients such as Aramis & Designer Fragrances, Avon, Bath & Body Works, Calvin Klein, Clinique, Coty Inc., Coty Prestige, Dior Beauty, Estée Lauder, Lancôme, P&G Prestige, Proctor & Gamble, Ralph Lauren Fragrances, and Shiseido.