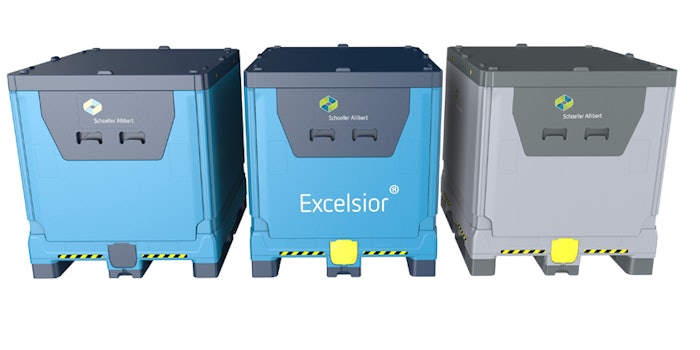 Schoeller Allibert UK, a manufacturer and supplier of returnable and recyclable plastic packaging solutions, is promoting the potential of returnable transit packaging for the chemical supply sector.
Related: Sulapac Debuts Biodegradable Water-Based Packaging
Using returnable packaging enables brands and retailers to enhance sustainability along the entire length of their supply chains.
With returnable transit packaging, brands and retailers can reportedly reduce costs and lower carbon footprints. Many of the containers and totes are stackable and nestable to increase logistics efficiency.
In addition, Schoeller has developed the Combo Excelsior, a foldable IBC designed for international logistics. The design can be erected and folded by a single operator and has a discharge zone that connects to every common valve on the market.
Combo Excelsior offers chemical suppliers strength, durability and space efficiency, per the company, as well as a double wall structure that enables a 1,500 kg unit load and a stacking load of 8,000 kg. 
Noel Lynott, country sales manager at Schoeller Allibert UK, says: "The chemical sector, which relies on effective stockholding and volume, is only as effective as its weakest link. Investigating the unique needs of our customers in the chemical supply industry, there is huge opportunity for businesses to rethink established norms of logistics. For example, many businesses are still relying on wooden dollies, pallets and containers despite rapidly rising costs. Others, for example, are setting strong sustainability goals in terms of chemical sourcing and waste disposal but are not thinking about their handling and storage processes to support their sustainability strategy."
He adds, "It's no secret that the chemical sector is under rapidly growing pressure to deliver in volume, margin and sustainability. At Schoeller Allibert UK, we have developed a range of containers specifically designed to meet the needs of chemical suppliers, and there's never been a better time to explore the possibilities. The chemical sector is ready for a returnable and recoverable revolution in the same way that food processors and retailers have embraced it."
Lynott concludes, "Our ChemiFlow IBC is a prime example of exactly where handling, storage and logistics can play into a wider sustainability and process strategy. Built with safety, security and traceability at the forefront, the UN-approved 100% plastic containers integrate seamlessly with digital tracking and automation tools. Handling safety is, of course, a top priority for the chemical sector, and we have introduced a number of innovations that enhance operator safety, reduce waste from spillages and make logistical transparency simple and effective."