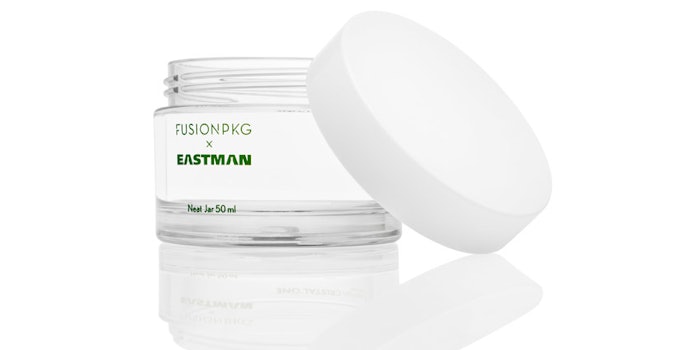 Eastman
Eastman has announced the launch of Eastman Cristal One, a portfolio of Resin Identification Code 1 (RIC1) resins engineered to meet the demands of thick-walled packaging for luxury cosmetics. FusionPKG is introducing several new products using Cristal One as well as other sustainable resins from Eastman's Cristal Renew portfolio.
Related: LVMH Using Eastman's Cristal Renew for Dior Launch
The Eastman Cristal One products are the first RIC1 materials that enable production of transparent jars up to 12 mm in thickness.
Cristal One will also be available as Cristal One Renew with up to 50% certified recycled content generated by Eastman's molecular recycling technologies.
FusionPKG is launching five of its custom packaging creations in Eastman's new Cristal portfolio, including the Max Out series within its "merchandising-friendly" Space Max collection.
The Space Max collection features an airless bottle, a modern ampoule dropper, an atmospheric bottle and a doe-foot bottle in Cristal Renew, as well as a skin care jar in Cristal One.
Daniel Campbell, senior sustainability and packaging engineer, FusionPKG, said, "With Cristal One recyclable resins and the broad portfolio of Eastman Renew materials, FusionPKG now can offer a more sustainable solution without compromise across our extensive portfolio. What really stands out with these resins is how they allow us to create the crystal clear, high-end packaging we are known for, while still supporting key sustainability initiatives from our brands." 
Tara Cary, market development manager for Eastman cosmetics and personal care, said, "We are thrilled to be working with FusionPKG to introduce Cristal One and Cristal One Renew. FusionPKG's sleek, cutting-edge design sensibility was just what we were looking for to bring an entirely new product to market. With the Cristal One portfolio, we are able to bring together the best of both worlds, recycled and recyclable, and still provide the superior performance that brands and innovative design houses like FusionPKG demand for their packaging today."