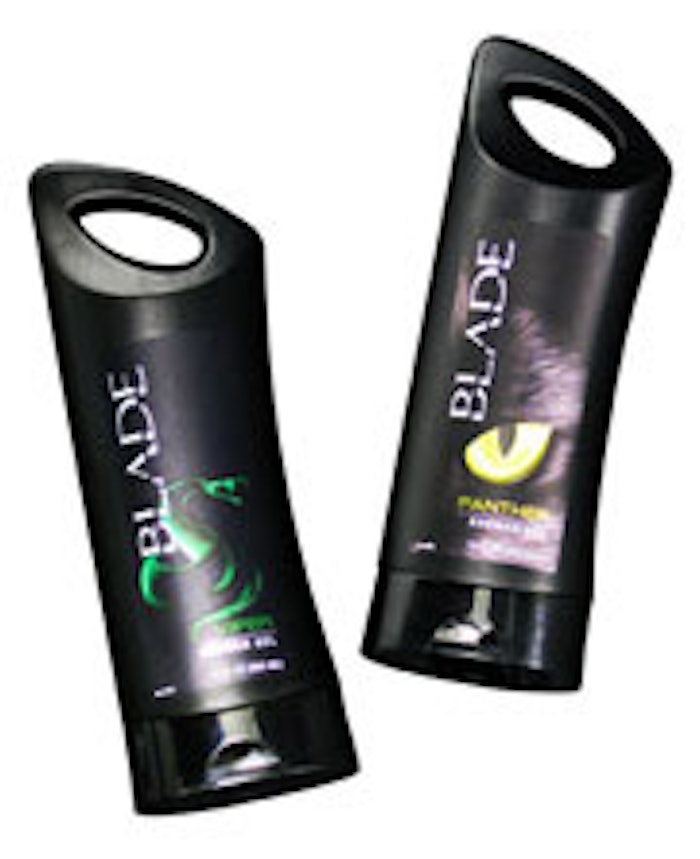 TricorBraun
Packaging supplier TricorBraun, active in North America and Asia, announced it has won the American Graphic Design Award for the creation of the men's body wash container for the Blade brand, which is owned by CVS/Pharmacy.
According to Danielle Rogers, sales and product development director for Apollo Health and Beauty Care, the private label personal care manufacturer that developed the shower gel and hair care products within the Blade franchise, the packaging of the male-focused Blade body wash had to be mindful that both women and men might purchase the product.
David Snyder, TricorBraun design director, explained the concept behind the winning design. "Blade was designed as a tottle, a combination tube and bottle, with the dispensing closure on the bottom, so users won't have to shake a nearly empty container. The tottle was designed with a finger hole in the top so it is easy to pick up when wet," said Snyder, noting that in 2007, the TricorBraun also won an American Graphic Design Award for its Elmer's Glue bottle. "To distinguish Blade from its competitors, the container is black with a black translucent closure to showcase the label's colors. The container's profile features a sweeping curve to give it the look of speed as it rests on the shelf."
The Blade line consists of four products, which are packaged in 12-ounce polyethylene tottles. The closure is a stock, polypropylene flip top that snaps onto a reinforced neck.