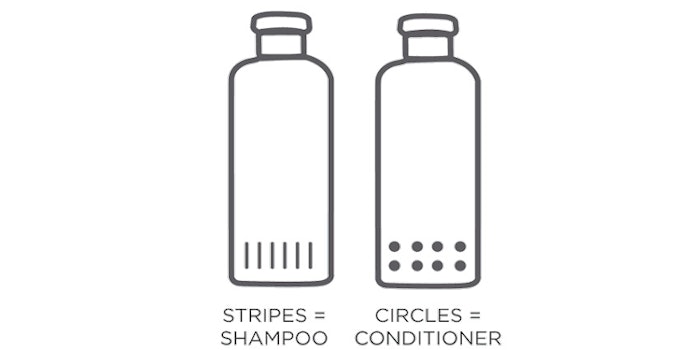 On World Sight Day, October 11, 2018, Herbal Essences shared its new inclusive bottle design for visually-impaired consumers. 
According to Herbal Essences' parent company, P&G, the package features tactile indentations that will help differentiate the brand's shampoos from its conditioners in-shower—given they share the same bottle shape—alleviating in-shower confusion and helping consumers confidently perform daily tasks. 
The Details
Shampoo bottles have four vertical lines on the bottom of the back label while conditioner bottles have two rows of dots.
The features for both the shampoo and conditioner were kept simple so that they could easily be differentiated by touch. 
The new packaging will be available 

on Herbal Essences' bio:renew shampoo and conditioner bottles beginning January 2019 everywhere that the brand's hair care products are currently sold.
Sumaira "Sam" Latif, P&G's special consultant for inclusive design, who has been with the Company for over 18 years and is herself blind, was the mastermind of the new packaging. 
Latif explained, "Imagine the daily challenges, like choosing matching clothes in the morning or simply taking a shower after a long day. As a blind person, you must do these things using touch rather than sight. You don't really know which bottle the shampoo, conditioner or soap is… you have to get creative. I used to put an elastic band around shampoo or sellotape on conditioner to remind me. It was important that we invent a feature, universally recognizable tactile feature, which would work for people who haven't had the opportunity to learn braille."
Shane Mays, packaging engineer at Herbal Essences Packaging, said, "In my 15 years working at P&G, I have never worked on a project with as much personal passion as this one. I am so incredibly proud of what we are doing and the impact we will have. This pride and passion were contagious across the entire manufacturing team who worked together to make this possible on the fast manufacturing lines."