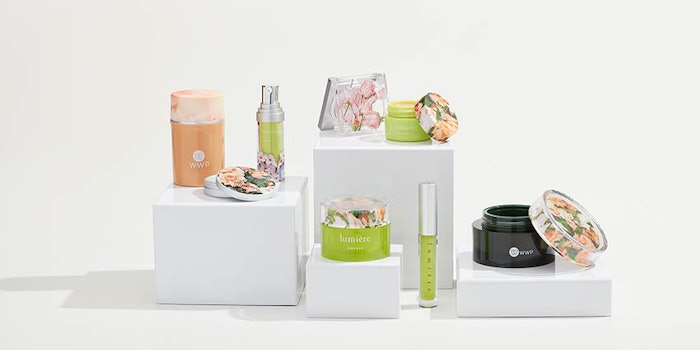 World Wide Packaging (WWP) will showcase three turnkey beauty collections at Cosmoprof North America.
They include:
Lumiere—A collection of cosmetic and skin care products for lip, face, cheek and body, inspired by the French word for "light." Lumiere features anti-pollution and super food blend ingredients, with items including a lip sleep masque enriched with plant cells; a superfood lip glaze infused with celery, kale and spinach extracts; a water-based cooling and light-weight highlighter for face and body; a crème blush; a fragrance balm; and a lightweight masque for hydration and balance.
REI—A minimalistic collection inspired by fashion designer Rei Kawakubo, the REI collection celebrates mature skin and aims to defy stereotypes surrounding beauty and aging. It showcases dual-action products infused with peptides to firm, plump and hydrate, including a frosted matte lipstick containing Volulip (to increase volume and hydration); a radiance primer formulated with peptides and travel pigments to blur skin and achieve long-lasting radiance; an eye palette; and an air finished pressed highlighter compact.
Arcana—A gender-neutral collection with sustainability in mind, the collection includes formulas with functional ingredients. They include Regenerate, a brow treatment formulated with peptides to promote the growth of lashes and brows and aid in the reversal of the oxidation process that causes gray hair growth; a post-shave oil designed to smooth and hydrate; a cleanser balm; and a lightweight, fast-absorbing lotion laced with orange peel essential oil.
"The distinct capabilities of the three new collections not only appeal to a wide range of consumers, but also demonstrate the versatility and capabilities of WWP," said Jim Farley, executive vice president of global business development for WWP. "We look forward to exhibiting at Cosmoprof North America to share our recent innovations and facilitate constructive dialogue with other industry leaders."
WWP will be located at booth #46425 during Cosmoprof North America, to be held July 28-30, 2019 at Las Vegas' Mandalay Bay.