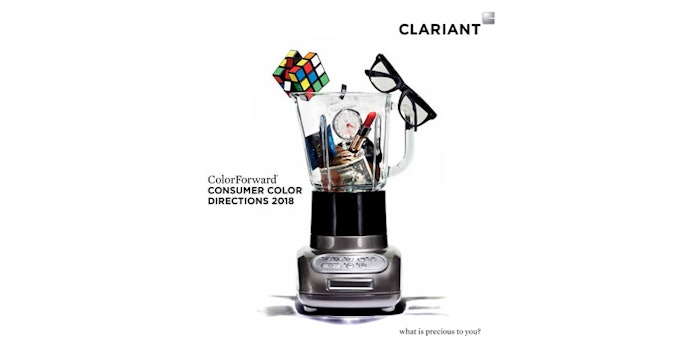 With 2017 just around the corner, Clariant has already started forecasting color trends for 2018. According to the 12th edition of the annual color forecasting guide for the plastics industry, colors for 2018 will be "toned down and a little bit grey but, at the same time, warm, organic and hopeful," signifying that consumers will be feeling disappointment as well as determination.
The trend of finding hope amid disappointment was also touched upon in the debut of Pantone's 2017 Color of the Year, Greenery.
The Colorforward 2018 Colors Trends
Newmorrow: this color palette includes a hue called Primordial Soup, a greenish brown that has been dubbed by some as "the ugliest color in the world." While it may not be the prettiest color to look at, the guide states that it is both rich and biological.
LongitudeLatitudeAttitude: this color palette was classified in the guide as bohemian and includes colors such as a purple fuchsia, called Nomadness, a warm orange yellow, called Kaleido Tribe and a grey blue, called Cirrus Aviaticus.
Through the Mirror: this palette includes a pearl orange color that was inspired by the yoga practice त्राटक, pronounced "trataka."
Nerdylicious: the colors included on this palette are the most optimistic in the guide and includes an almost orange yellow, called Lightning Bolt and a slightly dirty, optical white hue, called Alberting Out!
While many 2017 color trends have been recently announced, Clariant has been looking at the "long term global view of social trends and tries to identify the deep seated emotions that influence how consumers respond to color and, by extension, to a manufacturer's product," according to the company.
Judith van Vliet, ColorWorks designer and a leader of the ColorForward team stated, "I think that's what makes ColorForward different from other forecasts and why we are getting so much attention."