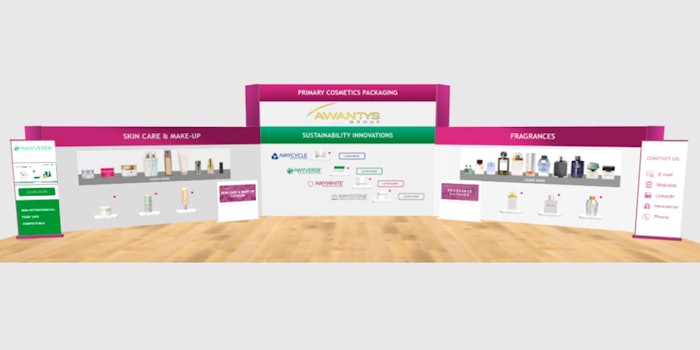 Amid pandemic-related shutdowns and event cancellations, Awantys Group is launching a virtual booth that showcases its latest sustainable packaging innovations, reference projects from clients and portfolio of cosmetics packaging components. 
Previously: Corporate Image Unveils Ci Rigidbox Luxury Eco Packaging
According to Awantys Group, the virtual booth is free and available 24/7.
Clients can view the new Awycycle packaging that is made from post-consumer and post-industrial resins. All recycled types of plastic such as PP and PE are REACH-compliant and available in different colors.The components can be processed in exiting molds and are said to be a valuable contribution to the sustainable circular economy approach.
Awantys has extended its portfolio of standardized items for fragrances (including glass bottles, closures, pumps and collars), skin care (jars, tubes, airless and dropper bottles) and makeup (lipsticks, compacts and eyeliners).
The entire portfolio of more than 1,000 designs can also be browsed at the virtual booth.
New reference projects for fragrances include Bentley Beyond For Her by Lalique Beauty, Tom Tailor Woman/Man by Luxess Group, Lenina Coleman by Gosh Copenhagen and Cerul by Berlin de Vous. Beyond. Skin care projects include Authentique by Gertraud Gruber, Phyris by Dr. Grandel and Hya 4 Seren by Dr. E. Voss.
Carsten Wolansky, managing partner of Awantys, said: "We are convinced that this innovative format is both an effective and safe tool for interacting with our clients and prospects particularly in the light of the current pandemic. Beyond, the integrated product configurator which allows our visitors to visualize their individual designs in 3D, creates an entirely new customer experience."