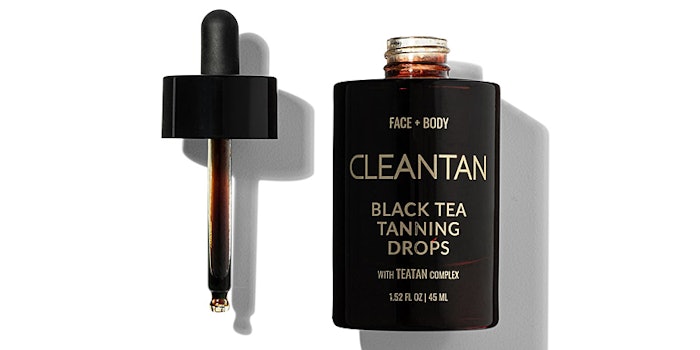 Cleantan's Black Tea Tanning Drops now use a sustainable glass dropper top. There were no changes to the product's formulation, which utilizes the brand's antioxidant-rich Teatan complex.
Related: Baralan Adds Pumps to Glass Packaging Series
Cleantan's Black Tea Tanning Drops can be added to any moisturizer to become a self-tanner. It uses plant-based colorants that are intended to produce a deep golden tone.
The self-tanning drops are vegan, cruelty-free, paraben-free, gluten-free and dye-free with no penetration enhancers.
Black Tea Tanning Drops ingredients: green tea leaf extract, darjeeling black tea leaf extract, gotu kola extract, rooibos/red bush leaf extract, white tea leaf extract, erythrulose, cardamom oil, dihydroxyacetone (ecocert), glycerin, cocoa extract, caramel, blue-green algae powder, beet root powder, green tea leaf powder, saccharide isomerate, glyceryl oleate citrate, caprylic/capric triglyceride, phenoxyethanol, caprylyl glycol and squalane