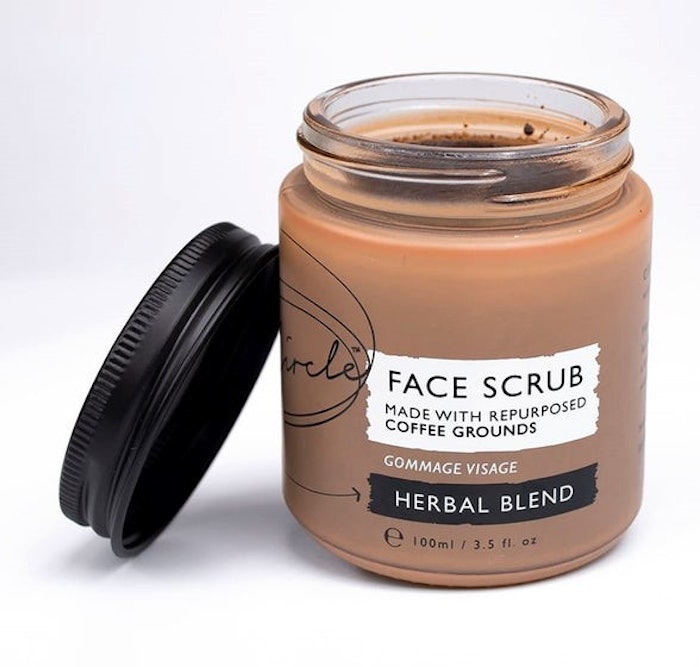 UpCircle Beauty has relaunched its Coffee Face Scrubs with a glass jar packaging, replacing the aluminum tube design. The change is due to consumer feedback that the product was difficult to get out of the tube near the end of its capacity. The glass jars and aluminum cap are 100% recyclable.
Related: Baralan Adds Pumps to Glass Packaging Series
The Coffee Face Scrubs are created with Arabica coffee grounds sourced from artisan coffee shops. The scrubs are antibacterial and antiseptic, intended to exfoliate and prevent breakouts.
The Coffee Face Scrubs are available in three formulas for different skin types:
Herbal Blend is intended for acne and formulated with rosemary, thyme, petitgrain and tea tree essential oils.
Citrus Blend is intended for dry skin and formulated with rosehip, sweet orange and lemon verbena essential oils.
Floral Blend is intended for oily skin and formulated with chamomile, rosehip, geranium and patchouli essential oils.
Each Coffee Face Scrub costs $20; available at us.upcirclebeauty.com.
Anna Brightman, co-founder of UpCircle Beauty, says, "We are a brand that views ourselves as constantly evolving. We are happy to implement change when we feel the need, and this was a perfect example of that. We did this with our body scrubs and the sales shocked through the roof, and so we have done the exact same thing with the face scrubs, and it's having the same effect."