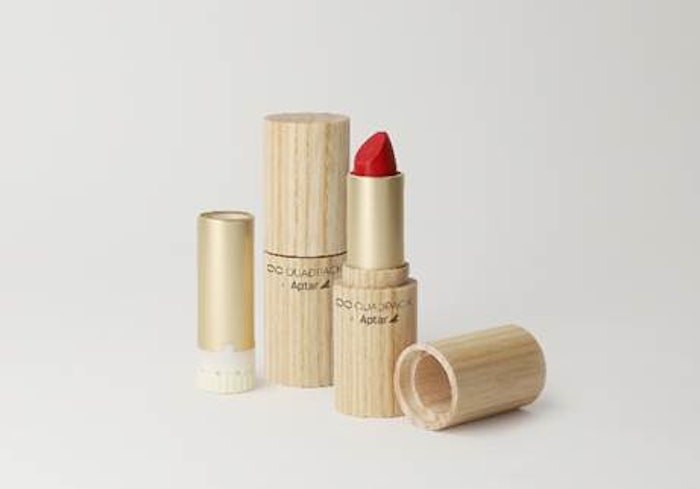 Quadpack and Aptar have launched the Iconic Woodacity refillable lipstick.
The mechanism is contained in a mono-material casing custom-designed and manufactured by Quadpack, made of 100% certified ash wood from sustainably-managed forests.
The patented 'Solo Twist' system features an oval-shaped interior which ensures that the cap auto-locks on a quarter turn. 
The entire pack is made in Europe. The mechanism is manufactured by Aptar in Chavanod, France (formerly Aptar Reboul). Aptar Chavanod uses renewable energy, while 95% of production waste is reused or recycled.
The wooden container— with PEFC (Programme for the Endorsement of Forest Certification) or FSC (Forest Stewardship Council) certification on demand—is made at Quadpack's wood factory in Catalonia, Spain, where a biomass plant converts production waste into energy.
Jeremy Garrard, Quadpack's director of market development, said: "This has been a project firmly based on shared value. Aptar is a respected partner with whom we have a strong history of collaboration. Now, we are leveraging each other's complementary technologies, market positioning and customer base, to create a refillable makeup solution that really makes a difference."
Sergi Berthet, vice-president, General Manager Beauty EMEA at Aptar, said: "This solution combines Aptar's expertise in mechanisms for prestige lipsticks, with Quadpack's know-how in high-end wood solutions. Our partnership has led to an innovative and premium refillable lipstick, which illustrates our common goal of a sustainable future for packaging.