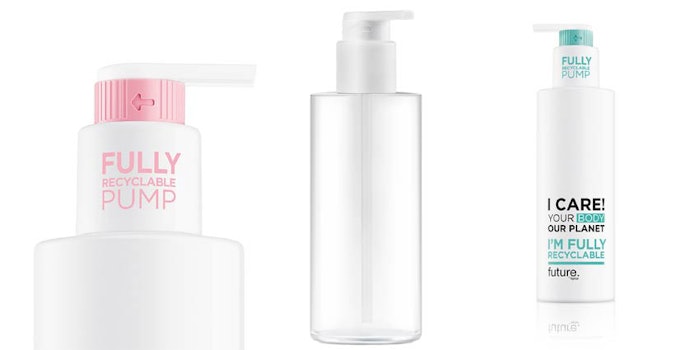 Aptar Beauty + Home has launched the fully recyclable, monomaterial and e-commerce-friendly Future pump, addressing an array of beauty industry requirements simultaneously. It can be used for products such as shampoos, shower gels and body lotions.
Sustainable by Design
Future's design eschews metal components and comprises only polyethylene (PE), easing recyclability. It is also available using post-consumer resin (PCR). Only the PE cylinder and rounded shape in 300 ml and 500 ml can be made with PCR; testing on ocean plastic versions for hair, body, skin and other products is underway.
"The ideal situation for the complete value chain is to have monomaterial packaging where the container, the closure or dispensing system is made from the same material family," said Christophe Marie, product sustainability director, Aptar. "This was the big challenge our innovation team overcame with the development of Future."
Report: Waste-free Beauty
The design is certified by CyclosHTP, the institute for recyclability and product responsibility. It has also received an "A" from RecyClass (for the undecorated clear or white pump), a cross-industry initiative that works to establish a harmonized recycling approach and traceability in Europe.
Furthermore, Aptar Beauty + Home has obtained an International Sustainability & Carbon Certification (ISCC) for its European production.
"Our ultimate goal was to have the final consumer be able to take their body lotion, shampoo or shower gel and easily put the empty packaging in their recycling bin," said Sabine Bouillet-Lubot, global strategic marketing director, Aptar Beauty + Home. "This way, it enters a circular life cycle and can be turned into another product."
Critically, the pump is suitable for a range of viscosities and can be customized to two dosages and two neck sizes. The range can be expanded according to client demand, Aptar has noted.
Future's design is showerproof, per the company, allowing for formula protection. The pump reportedly combines well with transparent PET bottles for designs that seek to reveal the absence of a metal spring.
According to Aptar, a study is in progress for a 33 mm, 4 cc pump design variation.
E-commerce-ready

Future also takes aim at the way consumers are shifting their spending channels. With e-commerce growing by about 12% a year, brands require pump designs that are durable enough to avoid leaks while also reducing the need for excess packing materials for shipment. Future reportedly addresses these requirements.
The Future pump features an incorporated on/off locking system and a 360° degree actuator, which includes a ring with an on/off actuation that opens or locks the pump with an accompanying double-click sound.
The rotator allows the user to freely orient the actuator. Brands can choose from several different ring colors for customization, per Aptar.
Notably, the closure design renders Future compliant with Amazon's ISTA 6 protocol.
"Today gives me great pleasure to launch our latest sustainable innovation, Future, a game-changing dispensing solution," said Marc Prieur, president, Aptar Beauty + Home. "Following more than two years of design, engineering and testing, I am very proud of my team and it truly reflects our commitment to the development of a circular economy." 
Sustainability Commitments
Aptar is a signatory of the Ellen MacArthur Foundation's New Plastics Economy Global Commitment for the reduction of environmental impacts for a circular economy.
Aptar has announced that 100% of Beauty + Home's products will be recyclable, reusable or compostable by 2025. It is also setting an emissions goal "consistent with requirements to keep global warming below 2° Celsius by 2030," per the company.