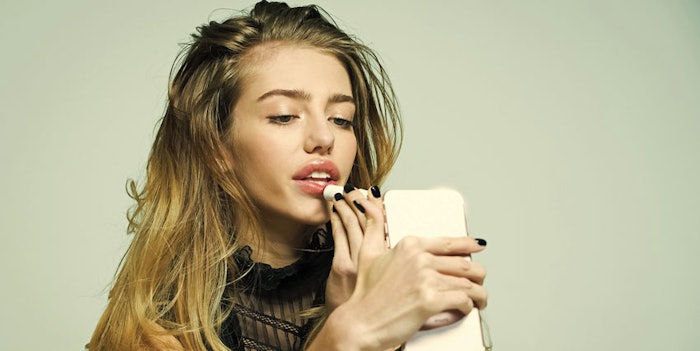 The state of beauty retail is always a hot topic in the industry. Here, we take a closer look at the biggest emerging trends that brands should keep an eye on. 
1. Beauty's new mega-holiday.
On Sunday, November 11, 2018, Alibaba's Singles' Day, an informal holiday meant to celebrate Chinese consumers who are currently not in a relationship, surpassed even Amazon's Prime Day back in July.
The Chinese e-commerce company reportedly generated $30.8 billion of gross merchandise volume (GMV) over the 24-hour period, an increase of 27% compared to 2017. Results were boosted in part because Southeast Asian e-commerce company Lazada participated in the holiday, driving sales with consumers in Singapore, Malaysia, Thailand, Indonesia, the Philippines and Vietnam.
Beauty and personal care fared particularly well.
International brands lead
"More than 180,000 brands participated [in the shopping holiday] this year," said Arianna Zhai, research analyst, Euromonitor Internat­ionalc.
Zhai explained that 237 brands sold more than RMB100 million GMV on the shipping holiday, lead by international brands such as Estée Lauder and L'Oréal.
Top countries selling to China were Japan, the United States, South Korea, Australia and Germany.
The speed of transactions was dizzying, Zhai added, with half of Tmall's beauty products reaching their 2017 sales within three hours, and less than nine hours for personal care brands.
It was a particularly strong year for international brands, said Zhai: "More than 40% of consumers made purchases from an international brand. With the trend of consumption upgrading, premium and foreign brands gain prominence specific to beauty and personal care, which aligned with the overall industry."
Domestic brands more competitive
Zhai warned: "[M]ultinat­ionals are facing mounting competition from local brands at the mass end. While foreign brands lead the top, four domestic brands make their way to a top 10 list, including Pechoin, Chando, Homefacialpro and Winona."
She added, "Tmall launched over 20,000 new products this year and co-branded new products gained popularity. For instance, Chando launched a new BB cream, which is co-branded with Wangwang, a food manufacturer in China. Also, Chando cooperated with Huggies to launch a baby diaper mask. These products were immediately sold out. The co-branded strategy can be an effective way to attract the young generation."
China has arrived
Daniel Zhang, CEO of Alibaba Group, concluded, "Today we witnessed the strength and rise of China's consumption economy and consumers' continued pursuit to upgrade their everyday lifestyles."
2. U.S. shopper habits, by the numbers
Recently, Accenture conducted a beauty consumer survey, commissioned by Facebook IQd, which uncovered product discovery and shopping behaviors in U.S. consumers.
Here are the key takeaways.
The participants
The report featured responses from 1,682 U.S. females who had purchased makeup or skin care products in the three months prior to the July 2018 survey.
Physical retail rules discovery, for now
According to the survey, 65% of makeup consumers discover new products in-store.
That said, 46% of makeup shoppers discover products online, with 33% doing so on mobile.
In facial skin care, 36% of shoppers discover products online, with 25% doing so on mobile.
Product evaluation is an omnichannel process
According to the survey, 61% of makeup shoppers go in-store to evaluate products, compared to 36% for online channels. The report noted that 26% of makeup shoppers use their mobile device to some degree to make a purchase decision.
For facial skin care, 55% of shoppers go to physical retail for product evaluations, with 30% doing so online.
Most likely to purchase online
The survey noted that 41% of makeup shoppers have purchased products online, while 27% have done so on mobile, making the category the most digital-friendly of the categories considered. Age matters in this respect: 51% of makeup shoppers aged 18-34 bought products online, while only 33% of consumers aged 35 and older reported doing so.
Why consumers resist online shopping
For beauty shoppers who haven't yet embraced online shopping, top concerns include delivery wait times, shipping costs and a desire to physically assess a product prior to purchase.
With the rise of Amazon's physical locations, as well as virtual try-on tools, brands and retailers have clearly gotten the message.
3. "Service is the new product"
While independent brands have the power to disrupt beauty industry norms, legacy brands have the resources to scale up innovation. In doing so, large multinationals can begin to compete not just on product, but on service. Coty did just that with two recent initiatives.
First, CoverGirl celebrated the opening of its first-ever flagship store in New York's Times Square. The space features a Google-powered virtual greeter, an AI-powered mirror for digital try-ons, a customization station for lipstick and makeup bags, and a video booth to drive social sharing.
Store staff will augment the technology with in-person services such as shade matching, makeovers and product recommendations.
Meanwhile, Coty's Clairol launched a hair color Action for the Google Assistant on Google Home smart speakers and smartphones. The Clairol Color Expert was built around consumer pain points in the at-home color category. The Action provides consumers a hands-free voice-activated guide to the at-home hair color process, including shade selection, application and re-application, and after-care.
"In beauty, service is the new product, and for consumers, the real value of a product is not just what's in the box, but the expertise and service that comes with it," said Fred Gerantabee, Coty's vice president, digital innovation. "By delivering Clairol expertise through the unique Google Assistant ecosystem we are able to transform the at home hair color experience and truly help Clairol consumers feel confident that they will get better results with a lifeline and expert at every step of their journey." n
Footnotes/Captions:
cFor more insights, visit https://blog.euromonitor.com/china-celebrates-the-11-11-global-shopping-festival/
d"Understanding the Beauty Shopping Journey of the Connected Consumer," www.facebook.com