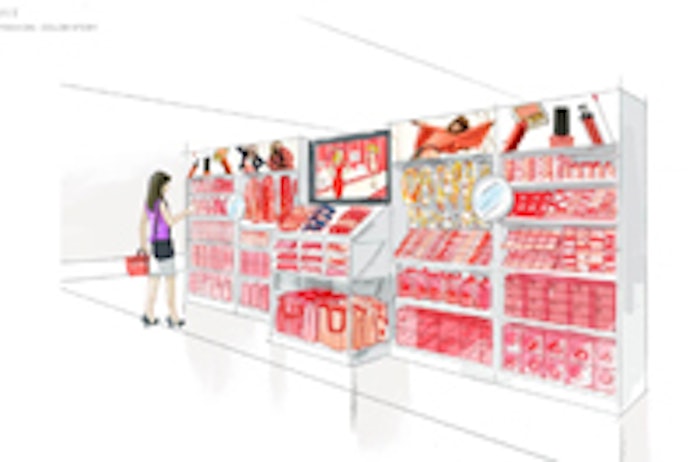 Image courtesy of Knock, Inc.
The 2011 graduates of the cosmetics and fragrance marketing and management master's degree program at the Fashion Institute of Technology (FIT) in New York presented their Capstone presentations at the Beauty For All: Innovations in Mass Retail event and reception, sponsored by Target, at FIT's Haft Auditorium in May. The following white paper accompanied the presentation from LaShada Allen, Asha Daniels, Corey Reese, Melanie St. Amour and Kadi Thompson.
Introduction
Fashion and beauty are inherently linked, and women throughout time and all over the world understand this. In today's oversaturated world, companies have wooed consumers with personalization and customization, and brands across all industries are starting to take note. For years, consumers have received fashion and beauty tips from their favorite magazines. However, fashion and beauty are not merchandised and marketed together at mass, the way they've always been linked in magazines. Conversely, prestige companies such as Dior and Chanel have been leveraging this connection in order to create one common message to the consumer. While mass brands have successfully made the connection by sponsoring major fashion events such as Maybelline's tie with Fashion Week, they have not yet translated that connection into the retail space.
In the consumer's eyes, the lines have blurred. She is shopping in multiple channels for beauty products and apparel, and looking for value in each. She sees high and low fashion being mixed on the pages of her favorite magazines. The traditional channel approach is now irrelevant. According to Wendy Liebmann, CEO of WSL Strategic Retail, "This mass channel shopper is smart."1 While 68% of consumers say they learned lessons during the recession, they continue to shop and are looking at purchases differently. Seventy-two percent of shoppers pay attention to price and they expect good quality at low prices. Additionally, this shift in value will not end as the economy continues to improve. Sixty-four percent of shoppers are proud to be frugal and cautious.2 Today, mass retailers use lower prices to attract and retain consumers. The next challenge is to offer an enhanced shopping experience, framing it as additional value in order to retain these consumers as brands and retailers continues to compete for this frugal yet sophisticated shopper.
There are three overarching trends that are shaping consumer behavior in store, out of store and online: the popularity of one stop shopping, the advice of curators, and the proliferation of fast fashion and fast beauty. By understanding these trends, retailers must ask themselves how they can leverage the fashion and beauty connection while further driving the mass consumer. Additionally, how might retailers encourage the consumer to link purchase decisions between the two categories? By speaking to her in a way that is familiar by connecting beauty with fashion is the way retailers can grow sales of two of the highest margin categories at mass.
Traditional media has changed and with the rise of instant communication and brands has adapted its marketing to a more expressive generation. With this in mind, retailers must develop a 360 approach that links fashion and beauty at every step of the consumer's life: enticing her with in-store merchandising, entertaining her with events, enamoring her outside of the store and engaging her using digital strategies when she's on the go. In doing so, she will recognize that convenience, value and engaging experiences are now available at her favorite mass retailer.
Entice Her In Store
When it comes to enticing consumers with visually disruptive merchandising in an environment that deliberately prolongs browse time, IKEA's global strategy has made it an industry leader. Its one-way layout encourages customers to see the store in its entirety, which has helped the Swedish company earn more than €23 billion in 2010. Its merchandising strategy showcases product in various lifestyle concepts to appeal to as many customers as possible. This strategy is not only implemented in 300 stores across the globe, 712 million visitors/year visit the IKEA website and 197 million catalogues are published in 29 languages, all of which leverage this disruptive merchandising strategy.3
Creating a similar journey throughout a mass retailer, consumers can experience fashion and beauty in their natural habitat: together. By blurring the boundaries between beauty aisles, apparel departments and fitting rooms, mass retailers can provide curated assortments that make "getting the look" both convenient and fun. In today's oversaturated and busy world, getting "in and out" is often times the consumer mindset; however, by creating an enticing experience where she can browse curated, trend right assortments, she saves time by no longer needing to make that extra trip to another retailer.
An in-and-out beauty and accessories aisle offers her items that tie into the color of the season or back to a fashion collection that is currently being sold by the retailer. Incorporating digital media in the aisle with runway shows and behind the scenes clips with makeup artists is an easy way to reinforce the link between fashion and beauty, promoting sales in both categories.
Creating seasonal stories within the apparel department entices her to make add-on purchases. A fixture highlighting "Summer Essentials" offers a curated assortment of swimsuits, sunhats and sarongs while also reminding her to buy sunscreen, sunless tanner and seasonal nail colors. By offering her a total look on one fixture, she is more likely to add impulse items to her basket and saves her time by not having to seek out multiple departments. Adding beauty samples and coupons onto the tags of apparel is also a way to encourage sampling and trial.
While fitting rooms at mass retailers are oftentimes uninspiring, consumers who try on clothes result in a 67% conversion rate compared to 10% for those who don't.4 Knowing she may be in a hurry, express dressing rooms throughout the apparel department will entice her to quickly try on apparel, increasing the likelihood of purchase. While she's in the dressing room, simple mirror decals highlighting the color of the season will remind her to pick up the latest beauty products on her way out.
By upgrading the experience in the main fitting room area, retailers can entice her to buy beauty and fashion. Creating a fun communal space and leveraging the digital media seen in the beauty and accessories aisle will encourage her to spend more time trying on clothes, driving conversion, transactions and average dollar per sale. Strategically placing impulse beauty towers around fitting room lines promotes impulse purchases and potentially captures new customers who may not have shopped the beauty aisles. Positioning a virtual vanity near the fitting room serves as an incremental beauty destination, giving vendors exposure that rivals the current beauty aisle endcaps. In lieu of testers, the vanity is outfitted with an iPad on which she can give herself a virtual makeover and then add corresponding shades to her basket.
According to an InsightExpress study, "Eighty-two percent of consumers already use mobile phones during their shopping trips, so it's critical that retailers understand and embrace this new shopping behavior."5 Incorporating QR technology and iPads inside of fitting rooms allows consumers to scan apparel and receive recommendations of fashion and beauty products that complete the look. Dragging pictures of the various items into a digital basket triggers a merchandise runner who collects the items to put aside at guest services for her to pick up.
By utilizing fixtures that showcase both fashion and beauty while also offering her curated assortments throughout the store will entice her to stay longer and spend more money at her mass retailer. This strategy answers the need of convenience and value of time, while also offering her an elevated shopping experience that will retain her in the long run.
Entertain Her In Store
Once the consumer is in the store, how do retailers keep her entertained and coming back for beauty and fashion? In many mass retailers beauty and fashion are often an afterthought. The consumer is in the store for their weekly shopping and beauty and fashion purchases are often an impulse. Another way to bring beauty and fashion together in mass is by making it an exclusive focus in mass. Taking a nod from events such as "Fashion's Night Out" and exclusive registry events at stores such as Crate and Barrel, mass retailers can use existing store space and re-merchandise it to hold monthly events catered around fashion and beauty. A Fall 2010 "Fashion's Night Out" event in Harlem, NY drove a 50% increase in foot traffic with 75% of customers purchasing product.6
A First Friday's get the look event, would work perfectly in mass. Every first Friday of the month would feature the latest looks and beauty concepts displayed together in the existing fashion space. Featuring fun drinks and appetizers that are sold in the grocery department, these added touches give the consumer the event feel that is usually only available at an upscale department store. One stop shopping, with a complete look, curated for the consumer.
The space is an exciting way for mass retailers to promote and leverage existing designer collaborations within the store. In Target for example, the Get the London Look Event would feature existing beauty brands like Rimmel and Boots and fashion from British designer Luella Bartley. Representatives from the brands would be at the event to help increase awareness, and show the latest beauty and fashion looks from across the pond. A partnership with the airline Virgin Atlantic would offer a trip to London, so shoppers can wear their new look on an actual trip to London.
Once a shopper has attended a First Friday event, they will get an online preview and invite to the next event, where they can RSVP to assure a spot. In a mass retailer such as Kohl's, the event space would be the perfect opportunity for a Vera Wang get the look event. Completed looks from her flirty Simply by Vera clothing line and her new makeup line could be debuted and sold together in the space. The First Friday's event could also feature beauty and fashion by season, with the latest boot styles and lip-gloss shades to get you ready for fall. It could also be featured by color, with fragrance, clothing, and nail polishes all in coordinating of the moment shades.
The event space would also be a perfect place to leverage the booming bridal market. Since many brides are already registering in stores like Target, First Friday's could launch exclusive limited time collections, where a curator selects everything you need to get a complete look for a rehearsal dinner, wedding shower, and honeymoon. All from one store.
Enamor Her Out of Store
In order to continue to capture the consumer's attention and reinforce the connection that fashion and beauty can be linked at retail, it is necessary to enamor the consumer outside of the store. Retailers need to continue the in store conversation with interesting marketing and merchandising concepts in the world outside their doors. Pop-up stores, college campus events, retailer sponsored movie nights and home shopping partnerships all offer the opportunity for retailers to continue the fashion and beauty conversation.
Pop-up stores first came on the scene in 2003 and flourished through the recession due to the increased availability of vacant retail space. Now mainstays for luxury and mass brands and retailers, pop-up stores provide a unique opportunity for mass retailers to enamor consumers and showcase what is new while also creating buzz. The popularity continues to grow; for example, Toys R'Us opened 600 pop-up stores across the U.S. in 2011 compared to 90 in the previous year. Open for a limited time in highly trafficked urban locations, these stores would provide penetration into markets where mass retailers do not have brick and mortar stores.7
Mothers and daughters continue to shop together and with limited bonding time available in our ever-increasing busy world. Retailers have the opportunity to provide a cross generational family experience. A pop-up store centered around back-to-school shopping for the daughters and back-to-beauty school for mothers, would allow a mass retailer to focus on age appropriate looks and highlight the season's trends. Pop-up stores could also be opened during New York Fashion Week and allow consumers to share in the runway experience. Set up to resemble the backstage of a fashion show, stores would be outfitted with vanity mirrors, makeup artists, hairdressers and clothing racks, retailers could easily showcase the season's latest fashion and beauty in a single space.
Retailers can continue to enamor her by taking fashion and beauty, to her directly. Marketing tour buses operate as a sort of mobile pop-up store and adding a social media dimension can further entice consumers to participate. A "Campus Cube" would update the traditional campus tour bus. The promotional cube would allow students to sample new looks, shoot videos of themselves and upload and share their new looks on Facebook and on Twitter enticing their friends to participate. Outfitted with a selection of fashion & beauty merchandise, the Cube would create an experience that speaks to how students communicate and express themselves today. Calvin Klein recently relaunched the CKOne unisex fragrance using a combination of social media, applications, and pop up events. Launched in March 2011, the CK One Virtual box has connected 80,000 consumers.8
Highlighting fashion and beauty products during retailer sponsored movies is yet another way to enamor her out of store. In April 2010, P&G and Wal-Mart kicked off the family movie night initiative when they presented the premiere of Secrets of the Mountain. In the one year since the partnership began, the Wal-Mart and P&G have reached 16 million viewers.9 Retailers could adapt this concept to showcase beauty and fashion by sponsoring a "Movie and A Make Over" night on television. Makeover spots would appear during commercial breaks and show consumers how to get an up to date look of her favorite movie characters, showcasing the latest styles and trends all available in store.
Co-branding, co-marketing and cross-selling are marketing tactics increasingly utilized to leverage assets and combine the strengths of two or more brands. A partnership between a mass retailer and a home shopping channel would provide the retailer access to the 90 million households that home shopping channels reach every day. The association would provide an excellent way to tell the story behind fashion and beauty, while offering her the authentic and personal communication consumers are seeking today. An easy way for a mass retailer to access this channel would be through a collaboration. Pairing a beauty brand such as Sonia Kashuk with the fashion of Calypso St. Barth for Target, would be the perfect match for showcase on HSN. This would give Target the opportunity to explain the concept behind the collections, highlight their beauty partnership, reach consumers at home and draw them into store.
Engage Her Online
In recent years, strategies to engage consumers online have led to double digit growth of e-commerce, digital technologies and social networks. All have impacted the consumer's behavior. While shopping, she "digs" through "delicious" products, Facebooks her friends to "meet up" on Foursquare and comparse prices of product in stores nearby. The consumer is in control of her shopping experience and sharing that experience with her friends.10 In order to stay relevant in the face of this empowered consumer, retailers are trying to complete a digital checklist to resonate with her. Wal-Mart's acquisition of Kosmix (a social media platform) for $300 million shows that retailers are trying to accomplish it, whatever the price.11
However, simply checking off boxes is not enough to win the game; retailers must engage the consumer. As stated in the New Rules of Retail by Robin Lewis and Michael Dart, "Well-edited retail brands … which know their consumers' likes and dislikes, provide an emotionally connecting experience in which less is more."12 To engage the customer and connect fashion and beauty online, there are three concepts that could easily help her get the look: combining augmented reality with social commerce, utilizing a digital personal stylist and the creation of a unique flash sales site.
The concept of combining augmented reality and social commerce is right on trend and is a natural next step for retailers. The retail potential is huge. According to freelance podcaster Paul Skeldon, "You turn the augmented reality technology into something that creates genuine revenue streams. Retail and gaming are the obvious areas that can deliver revenues with augmented reality right now. The real money lies in turning augmented reality into the consumer space with games, entertainment and education. In the next 12 to 24 months you will see it everywhere, changing how people shop, by bringing the advantages of the Web to the in-store experience."13 In the comfort of her home, a consumer "virtually" tries on fashion items, and then the site recommends beauty products to her to complete the look. Discounts prompt her to join a synchronized shopping session to share her look with friends in real-time via social networks, all of that while she is shopping. Beauty brands like M.A.C are already starting to implement these "synchronized" social shopping sessions and is a great opportunity for retailers.
Second, a beauty and fashion personal stylist could leverage all brands sold under a retailer's roof to create a connection between fashion and beauty. For example, Target could launch "TARGET MY STYLE." On the website, a consumer would take a quiz answering questions about her favorite beauty products, runway looks and fashion accessories. Then, the beauty and fashion personal stylist would curate assortments and email her suggested looks weekly. This concept could be applied in store with a style consultant asking a consumer to fill out the same quiz on an iPad and then helping her locate items. This concept is similar to the popular website sendthetrend.com, which tailors collections to subscribers after they've created a fashion profile online.14 Now, imagine the impact if a retailer could curate looks across multiple categories and brands—leveraging its natural expertise of one-stop shopping place for beauty and fashion either in store or online.
Finally, flash sale sites have changed the retail model and, they are here to stay. However, to avoid oversaturating the consumer's inbox, this flash sale site offers a new proposition. Twice a month, curated looks would be picked by beauty and fashion bloggers. Similar to Gilt, Rue La La, Ideeli and newly launched My Habits by Amazon, this site would offer deals but also, engage with fashion and beauty mood boards to show the customer how easy it is to get a deal and a look in just one click.
Conclusion
The world is driven by connections. Consumers are not only connecting with each other; they are connecting to brands, causes and technology, all at a speed unlike any generation has experienced before. Mass retailers must become even more connected to the consumer conversation. They must entice her in store, entertain her with events, enamour her at home and engage her online. If retailers continue to ignore the natural connection between fashion and beauty, they just might get disconnected from the conversation.
References
W Liebmann/WSL Strategic Retail, The Mass Consumer, personal interview (May 5, 2011)
W Liebmann/WSL Strategic Retail, How America Shops, Future Shop 2001, 2012, 2013 WSL Marketing, New York, Print (2008)
IKEA Annual Report, Welcome to IKEA.com, IKEA Web (May 17, 2011)
E Holmes and RA Smith, Why Are Fitting Rooms So Awful, The Wall Street Journal (Apr 6, 2011)
Best Buy Adds QR Codes to Product Fact Tags, RetailCustomerExperience.com, Retail Customer Experience, RetailCustomerExperience.com (Sep 17, 2010; Web May 1, 2011)
HW Fashion Night Out In Harlem, http://harlemworldblog (May 17, 2011)
Outdoor Industry Association, News, WebNews, Outdoor Industry Association (May 17, 2011)
CK ONE, Facebook, Welcome to Facebook—Log In, Sign Up or Learn More (May 17, 2011)
P&G and Walmart Celebrate 1 Year of Family Movie Night, PG.com (May 17, 2011)
Bright Picture for U.S. Online Holiday Sales," Market Research & Statistics: Internet Marketing, Advertising & Demographics, EMarketer (Nov 17, 2010)
A Guess, E-Commerce Retail, Web (May 4 2011)
C Gondra, The New Rules of Retail, About.com: Need. Know. Accomplish. (Jan 21 2011)
P Skeldon, Better than the Real Thing ( Feb 15, 2011)
M Chase, SendtheTrend.com, Digital Strategies, Telephone interview (May 3 2011)
Additional Refernces
W Liebmann/WSL Strategic Retail, How America Shops, Retailer Report 2010: Department Store Report, JC Penney vs. Kohl's vs. Macy's Shoppers, Rep. New York, WSL Marketing, (2009)
W Liebmann/WSL Strategic Retail, How America Shops. Retailer Report 2010: Mass Merchandiser Report. Walmart vs. Target Shoppers, Rep. New York: WSL Marketing, (2009)
W Liebmann/WSL Strategic Retail, Time to Exhale? Sort Of ..., How America Shops: Trends from the Edge, 19 1
W Liebmann/WSL Strategic Retail, Waiting for the Other Shoe to Drop, How America Shops: Trends from the Edge 19 3–4
R Mullens, Wedding Bells Mean Cash Register Rings for Crate & Barrel, Others, TBO.com. Tampa Bay Online—Breaking News Headlines, Weather & Deals—Tampa Newspapers & WFLA, TBO.com, Tampa Tribune, http://beta2.tbo.com/business/breaking-news-business/2009/sep/25/wedding-bells-mean-cash-register-rings-crate-barre-ar-70904/(Sep 25, 2009)
G Steinhafel/Target, 2009 Annual Report, Rep. 2009, Target Corp, Minneapolis(2009).
K Khoury/Estée Lauder, Fashion and Beauty at Retail, Personal interview (Mar 7, 2011)