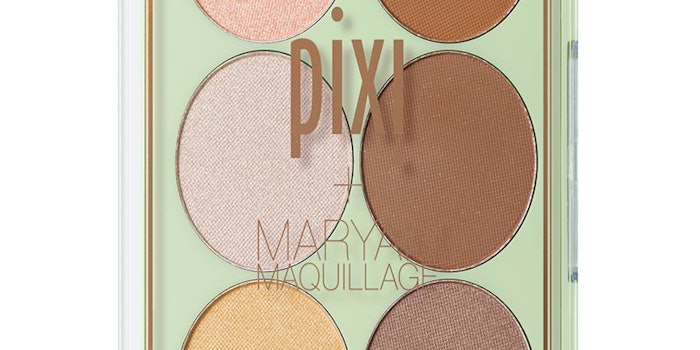 As Target ramps up its ingredient transparency program for personal care and beauty (see below), the retailer has announced the latest additions to its beauty ranks, including K-beauty from Peach & Lily and performance products from Sonia Kashuk.
Kristin Ess Hair
Depth Defining Water-Based Pomade ($10)
Dry Finish Working Texture Spray ($14)
Frizz Management Cleansing Conditioner ($14)
Hydrating Curl Defining Crème ($10)
Instant Lift Thickening Spray ($14)
Instant Lift Volumizing Mousse ($14)
Refine Signature Finishing Spray ($14)
Soft Shine Beach Wave Spray ($14)
Strand Strengthening Reconstructive Mask ($14)
Style Reviving Dry Shampoo ($14)
The One Signature Conditioner ($10)
The One Signature Shampoo ($10)
Weightless Shine Leave-In Conditioner ($10)
Weightless Shine Working Serum ($14)
Working Texture Loose Styling Powder ($10)
PIXI by Petra
This London-based boutique has expanded into a makeup brand, with a store now opening in California (below).
PIXI by Petra + Aspyn Ovard
Eye Accents Kit ($16)
Glow-y Powder in London Lustre, Rome Rose and Santorini Sunset ($16)
PIXI by Petra + Caroline Hirons
Double Cleanse ($24) o PIXI by Petra + Judy Travis
ItsEyeTime ($24)
ItsLipTime ($24)
PIXI by Petra + Maryam Maquillage
Strobe and Bronze ($20)
Strobe and Sculpt ($20)
Strobe and Sculpt Brush ($14)
Skintreats
Glow-O2 Oxygen Mask ($24)
Peel and Polish ($24)
Sun Mist ($18)
Vitamin Wakeup Mist ($15)
Color Cosmetics
Beauty Blush Duo + Kabuki Brush in Peach Honey ($18)
Correction Concentrate in Awakening Apricot ($12)
Endless Silky Eye Pen in Matte Khaki and Matte Mulberry ($12)
Eye Define Waterline ($14)
Geltint and Silkgloss in Beach Tint, Berry Tint and Pink Tint ($12)
Hello Rose! and Hello Glow! Kits ($22)
Mesmerizing Mineral Palette in Sunset Mattes ($12)
Shea Butter Lip Balm in Scarlet Sorbet ($8)
Sonia Kashuk
The Sonia Kashuk brand is continuing its collaboration with Target with a collection of "performance-based makeup, cult-favorite brush sets and cosmetic bags in trend-driven prints."
Limited-Edition Collection
Color Shock 10-Piece Brush Set ($39.99)
Pretty Cheeky Three-Pan Face Palette ($19.99)
Sadye's Work of Art Brush Cup ($9.99)
Core Additions o Brush Couture Four-Piece Brush Set ($22.99)
Chic Luminosity Healthy Glow Powder ($12.99)
Dramatically Defining Liner & Brow Palette ($10.99)
Eye Palette in Fresh Blossom ($14.29)
Fast + Flawless Top Coat ($4.79)
Nail Colour in Perfectly Peacock, Divine Sage, Naval Academy, Nailed It, Birthday Sprinkles, and Tulum Sunset ($4.79)
Satin Luxe Lip Color with SPF 16 in Persimmon ($9.99)
Simply Complete Eye Set ($17.99)
Simply Complete Face Set ($19.99)
Supreme Luxe Lip Gloss in Sparkling Sugar, Fairest Flush, Prettiest Pink, Naked Nude, Coveted Coral, Alluring Azalea, Nearly Natural and Polished Plum ($12.99)
Alicia Yoon's Curated K-Beauty Collection
Aprilskin Deep Cleaning Facial Cleanser, $7
Ariul Sheet Mask Skin Texture Improvement Facial Mask Treatment, $20.
Caolion Cream Deep Cleaning Facial Mask Treatment, $26
Caolion Cream Pore Minimizing Facial Mask Treatment, $20
Caolion Cream Skin Texture Improvement Facial Mask Treatment, $23
Caolion Stick Moisturizing Facial Moisturizer, $16
Lagom Gel Basic Cleansing Facial Cleanser, $17
Lagom Spray Skin Texture Improvement Facial Toner, $21
MIZON Snail Repair Eye, $22
MIZON Snail Repair Cream, $38
MIZON Face Masks - $3.50 each
Twenty Four Seven Cosmetic Highlighter White, $22
Twenty Four Seven Lipstick Medium, $29
Defy & Inspire
Target's in-house Defy & Inspire nail brand will launch long-wear products, including:
First Impression ($7.49)
Behind Closed Doors ($7.49)
Chopping Block ($7.49)
Pack Your Knives ($7.49)
Spoiler Alert ($7.49)
Fame Chaser ($7.49)
Bachelor Nation ($7.49)
Fantasy Bracket ($7.49)
After the Rose ($7.49)
Sublebrity ($7.49)
Rock of Love ($7.49)
Meanwhile, Target has updated its chemical policy and goals.
"Our chemical strategy will be one of the most comprehensive in the U.S. retail industry, including all Target-owned and national brand products and operations, not just formulated products," said Jennifer Silberman, chief sustainability officer, Target. "It's ambitious, but using our size, scale and expertise, we think we'll be able to make significant progress. And we hope our robust approach will accelerate similar efforts across the industry. Ultimately, we want to bring all stakeholders together to innovate and champion a consistent, industry-wide approach to greener chemistry."
The retailer's key goals are below: