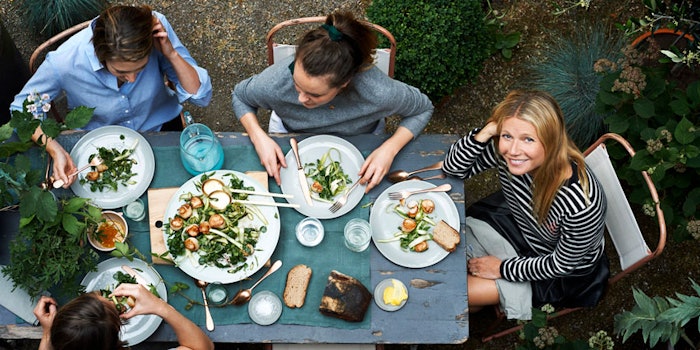 Nordstrom and goop, a lifestyle brand founded by Gwyneth Paltrow, are partnering for Pop-In@Nordstrom. The brand's products will be featured both in stores across the country and online.
goop-In@Nordstrom is the first time goop is working with a major retailer in this capacity. Each shop will be merchandised as an enclosed living space and a mix of wellness-focused products including apparel, accessories, beauty and home.
goop-In@Nordstrom can be found at the following Nordstrom locations from May 12 to June 25:
 Downtown Seattle, Seattle, Wash.
 Bellevue Square, Bellevue, Wash.
 NorthPark Center, Dallas, Texas
 The Grove, Los Angeles, Calif.
 South Coast Plaza, Costa Mesa, Calif.
 Michigan Avenue, Chicago, Ill.
 CF Pacific Centre, Vancouver, B.C.
CF Toronto Eaton Centre, Toronto, Ont.
 Nordstrom.com/POP
Olivia Kim, vice president of creative projects at Nordstrom, was quoted saying, "We love how goop has created a lively community around everything from zoodles to Zen. They have a way of conveying wellness concepts so they are not only easy to understand, but also adopt and make a habit into a ritual. Whether it's through health, fitness, or food, or whatever is manageable through your day, integrating self-care should be easy!"
Gwyneth Paltrow, founder and CEO of goop, said, "Our pop-ups have been an incredible opportunity to really connect with our readers and shoppers across the country—this partnership with Nordstrom allows us to provide that experience on a heightened level of scale, touching new markets and shoppers in the process."