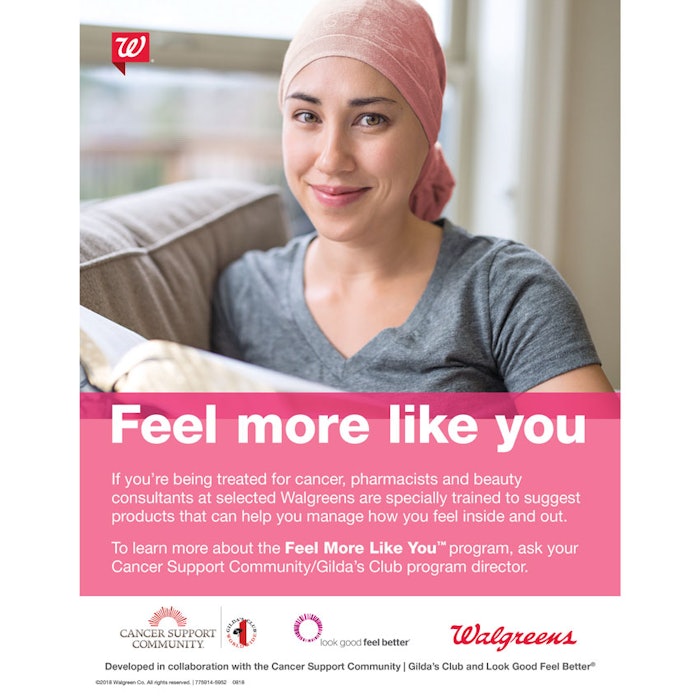 Walgreens' new Feel More Like You program is a newly launched initiative that was created to help with the physical changes associated with cancer treatment.  
Feel More Like You will be available in more than 400 Walgreens locations across the U.S. and 1,400 Boots stores in the U.K. At these locations, specially-trained beauty consultants and pharmacists will strive to provide personalized expertise and support for those living with cancer.
According to the company, approximately 500 beauty consultants have completed specialized training developed by Look Good Feel Better—a cancer support program focusing on the beauty needs of cancer patients—to address the physical changes associated with cancer treatment such as hair loss and dry hair, dry skin and skin discolorations, sunlight sensitivities and changes to nails and cuticles. Beauty consultants have also completed training from the Cancer Support Center—a nonprofit network of cancer support worldwide—to "provide an enhanced level of emotional support during interactions with individuals with cancer."
Rina Shah, vice president of pharmacy operations and specialty at Walgreens, stated, "For many patients, the result of cancer treatment not only impacts how they feel on the inside but also the physical and emotional changes can drastically affect their self-image. By leveraging the expertise of our beauty and pharmacy teams, we're looking to provide personalized care for people living with cancer that has not been found in a retail environment before."