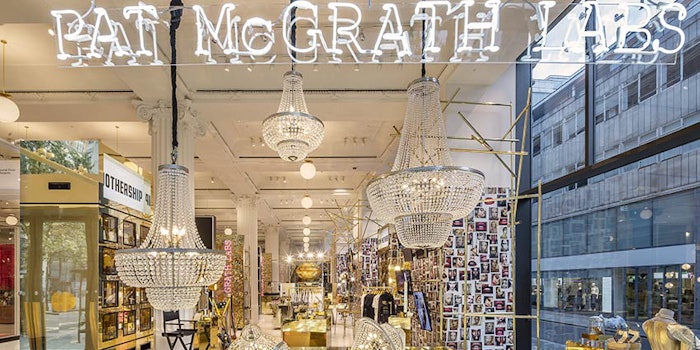 Pat McGrath Labs is continuing its European expansion by making it official with Selfridges: The makeup brand has launched a permanent beauty counter at the retailer's Oxford Street location, and will open at Manchester in summer 2019.
The brand's three-month pop-up shop at The Corner Shop, located at the Oxford Street outpost—called The Mothership and directed by Pat McGrath herself—was the longest running pop-up by any beauty brand in Selfridge's history.
"Pat McGrath Labs was our biggest and most successful launch ever," said Sebastian Manes, Selfridges buying and merchandising director. "Beauty is a very big category at Selfridges and Selfridges.com, which has been growing double digits in the last three years, but the Pat McGrath Labs brand has been nothing short of record-breaking."
During its three-month run (April-June 2019) the brand consistently placed first for domestic online beauty sales, topping both the eye and lip categories; a Pat McGrath Labs product is sold every 40 seconds in Selfridges.  
"It has been an honor for me to collaborate with Selfridges," said McGrath. "With The Mothership pop-up, and now the permanent counter expansion, we have the opportunity to reach so many more like-minded beauty lovers – in new markets, with new experiences, and many new major moments to come."