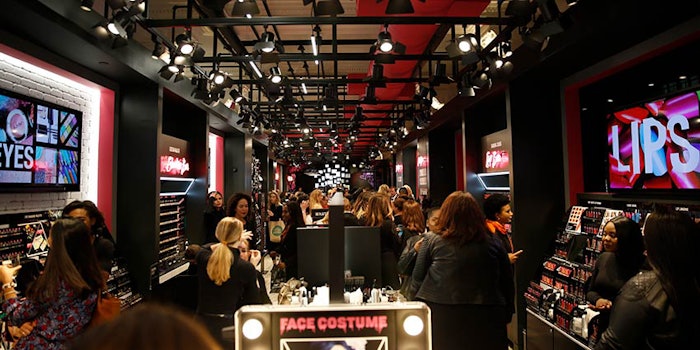 NYX is already a nimble digital leader, but the brand understands that a truly omnichannel strategy is necessary to succeed in today's beauty market. Now comes word that NYX is unveiling its flagship Manhattan store in Union Square.
The Union Square shop will include NYX's Beauty Bar makeup station, video tutorials, as well as a trend-based Lip Bar and Shadow Bar.
The store will also include a Colorcast wall, featuring color trends from around the world. The wall will allow consumers to scan their colors and access artistry representing those shades.
Consumers can also filter community content based on the color of their hair and eyes, or by NYX products.
 Services: Shoppers at the Union Square store will be able to sign up for personalized one-on-one lessons from the NYX Professional Makeup artists. The menu of lessons includes highlight & contour, lash application, brow mastery, and others.
"It is very important to us that our digitally-enhanced stores marry the online beauty community with the everyday retail world," said Nathalie Kristo, general manager, marketing and global business development. "The NYX Professional Makeup store is a place where we celebrate our online community while encouraging every day customers to come play, and experiment, and have fun with makeup. We have created interactive features for consumers to enjoy while educating themselves in the process."
"After a year of successful openings across the country, we are thrilled to open our first flagship store in New York City, right in the heart of Manhattan," said Scott Friedman, president of NYX Professional Makeup. "New York is the ultimate beauty mecca with a very discerning customer, which means the store has to feel special and unique. Through exclusive, interactive areas within our largest footprint yet, customers will be treated to a customized beauty shopping experience unlike any other."