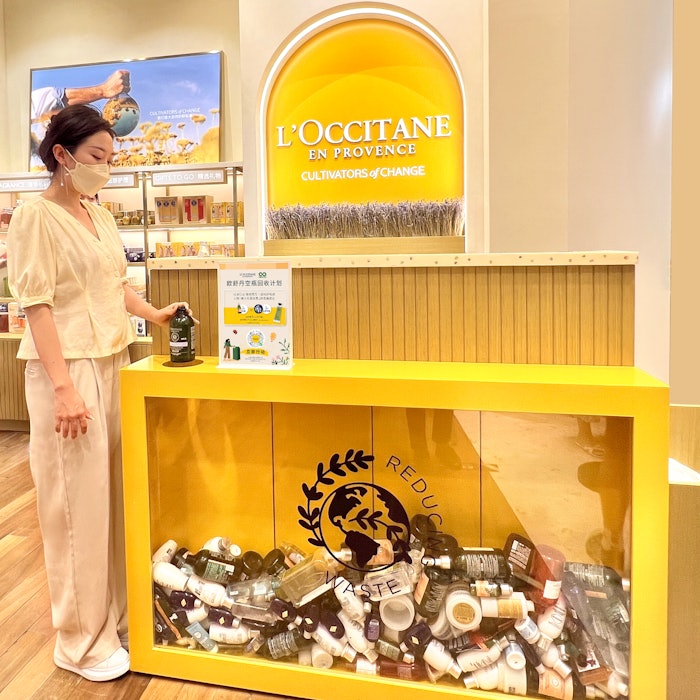 L'Occitane is partnering with TerraCycle China to implement a bottle return program in five downtown duty-free stores in Hainan. 
Travel retail customers will be encouraged to deposit their used bottles at recycling bins in the stores for TerraCycle to process and to continue to do so with any subsequent purchases.
As an incentive, customers can participate in L'Occitane travel retail's stamp collection WeChat program, which encourages them to collect stamps in return for a gift.
L'Occitane currently offers in-store recycling across the majority of its own stores in 27 affiliated countries.
Sustainability Concept Store
L'Occitane launched its first sustainability concept store in partnership with China Duty Free Group (CDFG) at Sanya International Duty-Free Shopping Complex in Haitang Bay. The eco-designed store was constructed from 84% eco-certified materials in line with the brand's guiding principle of rethink, recycle, reduce.
The store features a unique chandelier fashioned from recycled L'Occitane Immortelle Reset Triphase Essence glass bottles. The resin tabletops are also created from upcycled glass. Meanwhile, the flooring has been upcycled from the reclaimed timber of an old Chinese wooden boat. Spotlights from the previous shop have been re-used in the new store.    
Estelle de Bure, general manager, travel retail Asia Pacific, said, "Our primary purpose in offering a travel retail in-store recycling service at five downtown duty-free stores in Hainan is to raise consumer awareness of recycling and to encourage customers to act in an environmentally responsible way. This is a particularly important gesture in countries that lack extensive public recycling services. This service underlines the group's three abiding principles: to reduce waste, to recycle and to react—which, in effect, means working with innovative businesses to fight against plastic pollution."
de Bure continued, "We hope that the launch of our first sustainability concept store in Hainan will prove inspirational for our customers in finding ways to recycle, reduce waste and promote the biodiversity of the planet. We truly appreciate the continued support of our partner, CDFG, in working closely with us to underline how crucial sustainability is to all of us in our everyday lives and to the planet as a whole."
Grace Wang, general manager, perfume and cosmetics of CDFG, said, "We are delighted to partner with L'Occitane travel retail once again with this important and unique sustainability initiative at the Sanya International Duty-Free Shopping Complex. China Duty Free Group is delighted to offer Hainan travelers the opportunity to enjoy this exclusive eco-experience with an emphasis on caring for the environment and protecting biodiversity."